College of DuPage Culinary Instructor Wins 2012 Produce Excellence Award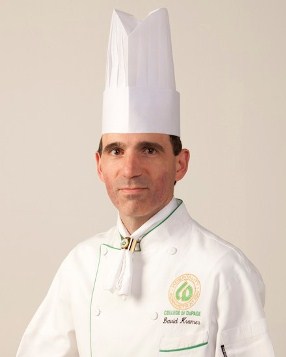 Chef David Kramer, associate professor of culinary arts at the College of DuPage in Glen Ellyn, Ill., is one of six chefs and foodservice professionals nationwide to win a 2012 United Fresh Produce Excellence in Foodservice Award. Nominated by Chicago-based Testa Produce, Inc., Kramer won in the Business in Industry & Colleges category. The awards program, created by the United Fresh Produce Association and sponsored by PRO*ACT, honors chefs and their companies for innovative and influential use of produce in the culinary arts.
The winners were selected from nearly 120 nominations submitted by produce companies and foodservice operations across North America. A panel of produce and foodservice-industry leaders reviewed each nominee's demonstrated incorporation of fresh produce into menu development, use of protocols for correct storage and handling of produce, leadership in produce-related community service, and special events and recognition by their company and industry peers.
Kramer, a College of DuPage instructor for the past 10 years, maintains a strong focus on seasonality in the classroom, demo kitchens and on-campus restaurants, utilizing a wide array of local and organic produce. He teaches the importance of food safety and sustainability, of knowing where food comes from and of cultivating close relationships with reputable vendors. He strives to give students real-world experience, creating opportunities to operate on-campus restaurants and to venture beyond campus to the farms and distributors that supply the school. He teaches tight inventory control to minimize produce waste and has partnered with the college's biology department to create and maintain an organic rooftop garden that students tend to gain real "farm to fork" experience.
A graduate of The Culinary Institute of America in Hyde Park, N.Y., Kramer has previously been honored with the Presidential Medallion from the American Culinary Federation, both nationally and through his local chapter. He received the Silver Plate Award from Meals on Wheels as a result of his ongoing involvement in that organization and has worked as a consultant within the local restaurant community, helping to mentor individuals interested in opening a restaurant.
"We're thrilled to see David receive this national recognition for his work as a culinarian, in general, and for his innovation and commitment to fresh produce, in particular," says Peter Testa, president of Testa Produce, Inc. "He understands both the fantastic opportunities and rigorous challenges that the produce category presents and finds innovative ways to ensure that his students leave well prepared on both ends of that spectrum."
Kramer will receive his award and appear on a Top Chefs panel at the United Fresh 2012 Produce Show in Dallas in May.