It's A Good Thing: Martha Stewart Is Commencement Speaker at The Culinary Institute of America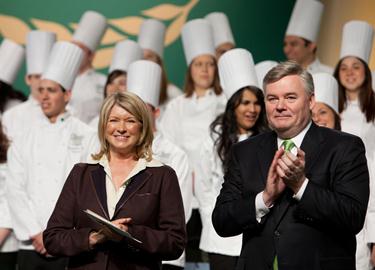 America's premier lifestyle authority advised graduates of The Culinary Institute of America (CIA) that generosity and hard work will be the secret to their success. Martha Stewart delivered the commencement address at the CIA on Friday, April 15, 2011. During the ceremonies, CIA President Dr. Tim Ryan, CMC, bestowed the college's Master of the Aesthetics of Gastronomy award upon Stewart and presented her with a personalized CIA chef's jacket.
"There is no room in the world of food for stinginess. The greatest chefs and restaurateurs share their knowledge, passion, and enthusiasm for good food and wine every day," said Stewart to recipients of associate degrees in culinary arts and baking and pastry arts. "That generosity of spirit is absolutely imperative with what you are going to be doing."
Stewart is the founder of Martha Stewart Living Omnimedia, which includes award-winning magazines, an Emmy Award-winning syndicated television program, a Sirius XM radio channel, a popular website, best-selling books, and several home and craft product lines. Each of the 80 graduates received a gift bag containing Martha Stewart-branded products.
Ryan, in presenting the award to Stewart, cited her creative vision, extraordinary business acumen, prolific accomplishments, and outstanding philanthropic spirit, which is "testimony of your commitment to excellence and quality in everything you do."
A remarkably successful businesswoman, Stewart told the newest CIA alumni that their good ideas will only be as strong as the hard work they put behind each idea. "Without hard work, your passion is all for naught. You never have time to rest on your laurels," she said.