Sullivan University Honors Richmond, Virginia, Chef Walter Bundy of Lemaire Restaurant to Receive Distinguished Visiting Chef Award on May 19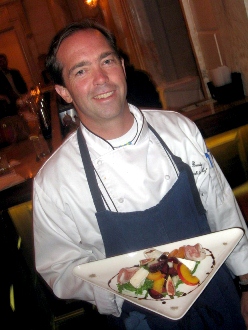 Sullivan University's National Center for Hospitality Studies (NCHS) will honor Chef Walter Bundy of Lemaire Restaurant, located in the Jefferson Hotel in Richmond, Va., with the prestigious Distinguished Visiting Chef award on Thursday, May 19. As recipient of the award, Bundy will present on-campus cooking demonstrations in addition to a question-and-answer session held exclusively for Sullivan University students.
Designed to connect today's aspiring culinarians with industry leaders, The Distinguished Visiting Chef Series has been recognizing three top chefs annually since its inception in 1988. Bundy will be the 40th recipient of the award, joining an impressive roster of chefs that includes Bob Kinkead, Emeril Lagasse, Louis Osteen, Rick Tramonto and Marcel Desaulniers.
"We are honored and excited to welcome Chef Bundy to Sullivan University and to present him with the Distinguished Visiting Chef award," says Tom Hickey, director of the NCHS. "He brings an innovative and modern style to traditional Southern cuisine, and I look forward to our students having the opportunity to experience his approach to cooking firsthand."
Bundy's farm-to-table philosophy stems from his childhood experiences on the family farm where his appreciation for garden-fresh ingredients and wild game was cultivated. During college, Bundy helped open The Blue Point Restaurant—well known for its use of fresh local ingredients—on the Outer Banks of North Carolina and later accepted a position at Mark Miller's Coyote Café in Santa Fe, N.M. After completing a degree in culinary arts at the New England Culinary Institute, Bundy worked with Chef Thomas Keller at the legendary French Laundry in Napa Valley. Bundy has been featured at the James Beard House in New York, the Chesapeake Bay Wine Classic Gala dinner in Virginia Beach, and Food Network's "Food Nation" with Bobby Flay.
In 2001, Bundy joined the Jefferson Hotel as the executive chef of Lemaire. His farm-to-table menu continues to showcase his commitment to creating upscale Southern cuisine and features produce from local purveyors and the hotel's urban garden. Bundy's urban garden is in its third season of providing ingredients for daily specials to the restaurant, furthering his vision of creating a fresh, sustainable menu. Under his culinary guidance, Lemaire was named one of the country's "Best New Restaurants" in 2009 by Esquire magazine.