Kendall College Names Renee Zonka Dean of School of Culinary Arts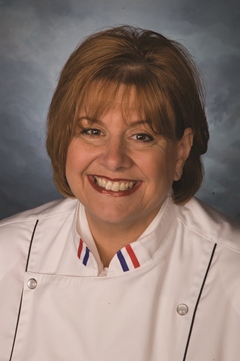 Renee Zonka, R.D., CEC, CHE, MBA, has been promoted to dean of the Kendall College School of Culinary Arts. In her new role, Zonka will be responsible for strategic direction of the school's culinary programs. A registered dietitian, she will also lead Kendall's nutrition initiative. Zonka replaces Christopher Koetke, who has been named executive director of Kendall College's School of Culinary Arts, adding to his current title of vice president of Laureate International Universities Center of Excellence in Culinary Arts, a position in which he is responsible for the strategic direction of Laureate's culinary programs worldwide.
Zonka joined Kendall College in 2007 as associate dean of the School of Culinary Arts, and was also named managing director in 2010. Prior to joining Kendall, she served as a lecturer at the Culinary Institute of America in Hyde Park, N.Y., and as a chef instructor at the Illinois Institute of Art–Chicago.
"Renee Zonka has been a tremendous asset to Kendall College since she joined us in 2007," said Karen Gersten, president of Kendall College. "Her dedication to culinary education, strong background in culinary arts and nutrition, and demonstrated leadership make her a perfect fit for this role."
An acknowledged authority on nutrition issues, particularly childhood obesity and special diets, Zonka launched a nutrition concentration in the School of Culinary Arts' bachelor's program in 2009. She also regularly consults with companies, professionals and other educational outlets on nutrition education and programming.
Zonka was honored as Registered Young Dietitian of the Year by the American Dietetic Association and received the Educator of the Year award from the American Culinary Federation (ACF) Windy City Professional Culinarians. She is a Certified Hospitality Educator (CHE) through the American Hotel & Lodging Association and a Certified Executive Chef (CEC) through the American Culinary Federation.
Zonka's professional career includes practicing clinical dietetics at Christ Hospital and Medical Center in Oak Lawn, Ill., where she also served as executive chef of the hospital, as well as managing multiple foodservice operations at Marriot Management Services for 11 years. While there, she provided classes on sanitation, nutrition and basic culinary skills to Marriott employees.
Zonka holds a bachelor's degree in food and nutrition from Loyola University in Chicago and an M.B.A. from Lake Forest Graduate School of Management, also in the Chicago area.