Kendall College School of Culinary Arts Students Win 2010 ACF National Baron H. Galand Culinary Knowledge Bowl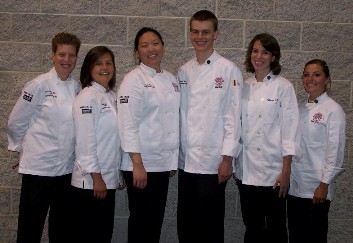 A team of five students enrolled in the School of Culinary Arts at Kendall College, Chicago, beat three other finalist teams to win the National Baron H. Galand Culinary Knowledge Bowl and earn gold medals at the American Culinary Federation's (ACF) 2010 National Convention in Anaheim, Calif., August 2.
The Kendall College team, representing ACF's Central Region and consisting of Allison Chikos, Erika Giffin, Sarah Roberts (captain), Jacquie Wallner and Edward Whitney, competed against teams representing foodservice-training programs at schools in ACF's Northeastern, Southeastern and Western Regions.
"We are so proud of our students who excelled admirably in ACF's annual national Knowledge Bowl," says Renee Zonka, R.D., C.E.C., C.H.E., associate dean and managing director of Kendall's School of Culinary Arts, who was on hand in Anaheim to cheer Kendall students along with team coach and Kendall chef-instructor Dina Altieri and Kendall College Interim President Karen Gersten. "They worked hard for months following their win at ACF's Central Regional Conference in Indianapolis in March, and their dedication and commitment to studying and practicing paid off."
The Baron H. Galand Culinary Knowledge Bowl tests the acumen of culinary-arts students via a "Jeopardy"-style subjects grid that includes challenging culinary, baking, nutrition, sanitation and math questions as well as sensory perception. The competition is named after the late Chef Baron H. Galand, C.E.C., who served as national president of ACF from 1983 to 1987. First held at the ACF's 1992 National Convention in Washington, D.C., today the four geographic regions of ACF hold the competition at their respective conferences in winter and spring to qualify teams to compete for the national title at the ACF's convention in summer.
Pictured (l. to r.): Chef Dina Altieri and students Sarah Roberts, Jacquie Wallner, Edward Whitney, Allison Chikos and Erika Griffin.