McCormick For Chefs™ Launches New All-Inclusive Foodservice Web Site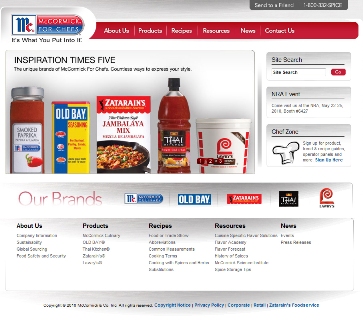 McCormick For Chefs™–Food Away From Home Division announces the launch of its new website designed to support the culinary needs of commercial and noncommercial chefs and operators. McCormickForChefs.com now provides expanded menu solutions, product information by brand, recipes, and flavor trends. Created with a more user-friendly approach, one can easily view and download product specification sheets for additional information and nutrition facts.
The site, audience specific for culinary professionals, was developed to enhance the online experience through greater functionality and in-depth content. For assistance and usability, every section displays a side panel containing recently viewed content and similar products and recipes to help meet a variety of needs. Key areas of McCormick's foodservice website include:
Our Products—displays packing size, item code, servings/container, ingredient statements, and special attributes to clearly label and differentiate product details. Highlights products and recipes offered for each of McCormick For Chefs™ five unique brands:
McCormick Culinary™: Core line of professional spices, herbs and seasonings. Flavor essentials for the professional kitchen.
OLD BAY®: Distinctive Chesapeake flavor that is sweet, spicy, savory and visually appealing. For seafood and much more.
Zatarain's®: True flavors of authentic Gulf Coast cuisine. Rice mixes, condiments and breadings for the heart and soul of New Orleans style foods.
Thai Kitchen®: Inspired Asian flavor made with authentic Thai ingredients. Gluten-free, all-natural, highest quality.
Lawry's®: Restaurant-proven flavor. Rubs, mixes and seasoning blends enhance center-of-plate offerings.
Our Recipes—dynamically search for menu solutions by food category, keyword, brand or attribute. Chefs can also adjust serving sizes based on exact needs.
Professional Resources—cuisine-specific flavor solutions, Flavor Academy™, Flavor Forecast™, History of Spices, McCormick® Science Institute, and Spice Storage Tips all create easy access research tools for operators.
About Us—learn about McCormick®'s mission and vision toward sustainability, the importance of global sourcing, and their strict standards for food safety and security.
"The launch of McCormickForChefs.com furthers our commitment to be the ultimate go-to flavor resource for foodservice professionals across multiple segments," said Ian Wesson, Director of Marketing, McCormick For Chefs™—Food Away From Home Division. "The new site was developed in a chef-centric manner to support culinary innovation, learning and ingenuity."
Information can also be downloaded as a PDF, emailed or printed for increased usability and sharing with colleagues.
Founded in 1889, McCormick & Company, Incorporated is a global leader in the manufacturing, marketing and distribution of spices, herbs, seasonings, specialty foods and flavors to the entire food industry—retail outlets, food manufacturers and foodservice businesses. McCormick For ChefsSM—McCormick's Food Away From Home division—provides unrivaled solutions to the distinct needs of professional foodservice with its McCormick Culinary℠, Lawry's®, OLD BAY®, Thai Kitchen® and Zatarain's® products. Chefs and operators can be confident that McCormick brings more sensory science experience, product innovation and flavor expertise for quality taste experiences. For more information and recipe ideas, visit www.McCormickForChefs.com.