Basic American Foods Presents Chefs of Tomorrow™ Grant to the Professional Culinary Institute During NACUFS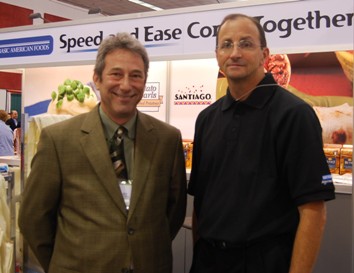 At NACUFS, Basic American Foods introduced innovation and fun on the menu with mini and regular-size "savory cupcakes" in two varieties: Bacon Hashbrown Cupcakes made with Golden Grill Russet™ Premium Hashbrown Potatoes and Buffalo-Chicken Meatloaf Cupcakes featuring Potato Pearls® EXCEL Original Recipe Mashed Potatoes. Prepared by PCI's Chef Laurie Lindrup from supplied recipes, the "cupcakes" earned wide acclaim among college and university foodservice managers throughout NACUFS' two-day trade show.
"The state-of-the-art facilities and innovative culinary and wine curricula of the Professional Culinary Institute reflect the future of the foodservice industry," said Mike Villano, vice president of sales for Basic American Foods. "We're proud to support PCI's continuing efforts to train exceptional culinarians who will help shape and define U.S. foodways."
The Professional Culinary Institute provides career training in the field of hospitality, focusing on culinary arts, wine appreciation and service and hospitality management. The curricula address the fundamental skills and knowledge necessary not only for successful entry into the industry, but also rapid advancement.
"Because we're aware of the highly competitive nature of our industry, we not only provide students the opportunity to learn and practice skills from master craftsmen in their fields, but we also instill the behaviors most sought by employers," said Prell when accepting the Chefs of Tomorrow grant. "The funds presented by Basic American Foods will be used to support the Professional Culinary Institute's faculty and student endeavors in a variety of culinary and baking-and-pastry competitions." For more information on the Professional Culinary Institute, e-mail This email address is being protected from spambots. You need JavaScript enabled to view it., call (408) 370-9190 or visit www. professionalculinaryinstitute.com.
Chicago-based Olson Communications, which founded Chefs of Tomorrow™ in 2008 to honor the food-marketing agency's 20th anniversary, is committed to funding grants to high-school and postsecondary culinary educators while promoting exemplary culinary-arts-training programs to foodservice manufacturers and suppliers and the nation's food-trade media.
Pictured, l. to r.: Prell, Villano.