CIA President, Dr. Tim Ryan, CMC, Inducted into James Beard Foundation's 2010 "Who's Who of Food & Beverage in America"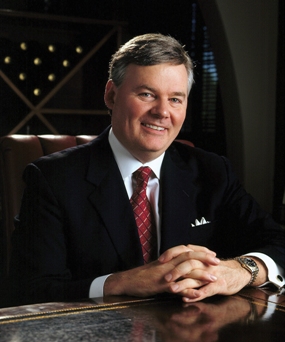 Dr. Tim Ryan, CMC, president of The Culinary Institute of America (CIA), is a new member of the James Beard Foundation's Who's Who of Food & Beverage in America. The Beard Foundation announced Ryan as one of six "Who's Who" honorees for 2010 on March 22. They will be officially inducted during the Beard Foundation's annual awards gala in New York City on Monday, May 3.
"Not only is Dr. Tim Ryan a wonderful role model for the literally thousands of students and chefs who have graduated from The Culinary Institute of America, but his distinguished career in the culinary world in America is legend," said Susan Ungaro, president of the James Beard Foundation. "A testament to his role in shaping the future great chefs of America is the fact that many James Beard Award winners are CIA graduates, including John Besh, Sara Moulton, Todd English and Alfred Portale."
"Inclusion in the 'Who's Who' is very special," Ryan said. "And I am honored to be able to represent the CIA within this distinguished group."
As president of the world's premier culinary college, Ryan oversees all of the CIA's programs and three campuses in New York, California and Texas. His leadership has generated the sustained growth, innovation and quality improvements that have shaped today's CIA. A CIA graduate, Ryan returned to the college in 1982 and advanced through faculty and leadership positions to become the first president of the college with a CIA degree in 2001. During his tenure, the college launched groundbreaking new academic programs, including the first bachelor's degrees in culinary-arts management and baking-and-pastry-arts management in 1994; developed branch campuses in St. Helena and San Antonio; advanced continuing-education and certification programs; and produced a highly successful publishing program, award-winning videos and television shows. In service to the foodservice and hospitality industry, the CIA now educates more than 2,800 degree students and 3,000 professionals yearly.
A leader in the American Cuisine movement, Ryan helped develop the American Bounty Restaurant while a faculty member in 1982. This pioneering concept showcased American cuisine at a time when French restaurants prevailed. He has also championed support of local agriculture, the integration of nutrition and healthy eating practices in the college's curriculum and conferences, and more in-depth study of global cuisines and cultures.
Manifestations of Ryan's commitment to global cuisines include the college's industry-leading Worlds of Flavor® Conference and its Latin American cuisines initiative at its newest San Antonio campus. This campus, currently completing a major expansion, is dedicated to providing formal culinary education to help aspiring Latin American chefs become industry leaders, and to elevating Latin American cuisines among the great cuisines of the world.
A native of Pittsburgh, Ryan earned his doctorate degree in education from The University of Pennsylvania and his bachelor's and MBA degrees from the University of New Haven. He received his associate degree from the CIA in 1977.
The list of honors Ryan has earned in his career includes numerous gold medals in international competitions. He captained the first U.S. team to win a Culinary World Cup in Luxembourg and the team that won the overall World Championship at the 1988 Culinary Olympics. He was also the youngest person to become a Certified Master Chef and the youngest president of the American Culinary Federation.
Joining Ryan in the class of 2010 in Who's Who of Food & Beverage in America:
• Leah Chase, chef/owner of Dooky Chase Restaurant in New Orleans
• Jessica Harris, author/historian
• Paul C.P. McIlhenny, president/CEO of McIlhenny Company in Avery Island, La.
• David Rockwell, founder/CEO of Rockwell Group, New York City
• Susan Spicer, chef/owner of Bayona in New Orleans
The CIA will be well-represented at this year's Beard Foundation Awards. In addition to Ryan's honor, a record 26 other graduates of the college are among the nominees for book, broadcast media, journalism, restaurant and chef awards.