Director of The School of Culinary Arts at Kendall College Awarded Honorary Membership in Illinois FCCLA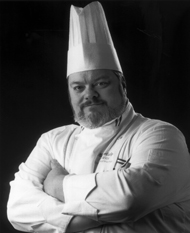 Mike Artlip, CEC, CCE, director of The School of Culinary Arts at Kendall College, was recently chosen by the state office team and board of directors of the Illinois Association of Family, Career and Community Leaders of America (FCCLA) to receive an honorary membership.
The award is given to individuals who assist Illinois FCCLA in being an outstanding youth organization, according to Marta Lockwood, executive director. Artlip will be honored April 10 during Illinois FCCLA's Awards Session at the Prairie Capital Convention Center in Springfield.
Artlip has been supervising regional and state Illinois FCCLA competitions for many years. Last year, three Illinois high-school students—coached by Kendall College's School of Culinary Arts—earned the distinction of top culinary team in America at the national Culinary Arts STAR (Students Taking Action with Recognition) competition during the FCCLA 2009 National Leadership Conference in Nashville. The finals to determine Illinois winners for this year's national competition will be held at Kendall College.
A graduate of Kendall College, Artlip held executive cooking positions in a number of Chicago-area establishments before joining Kendall's faculty in 1987. Among his many accolades, one of which Artlip is most proud is the 2007 Educator of the Year Award for the American Culinary Federation's (ACF) Central Region. More recently, he earned the 2009 Chef Professionalism Award from ACF Windy City Professional Culinarians based in Chicago.
About Family, Career and Community Leaders of America (FCCLA)
FCCLA is a dynamic national student organization that helps young men and women become leaders and address important personal, family, work and societal issues through family-and-consumer-sciences education. Based in Reston, Va., FCCLA has nearly 220,000 members in more than 6,500 chapters from 50 state associations and the District of Columbia, Puerto Rico and the Virgin Islands. It is the only career and technical in-school student organization with the family as its central focus. The organization has involved more than 10 million youth since its founding in 1945.