ASMI Releases New Consumer-Friendly Guide to Alaska's Seafood Sustainability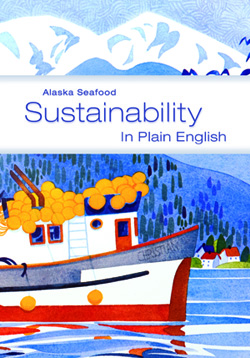 Alaska Seafood Marketing Institute (ASMI) has released a new resource to help navigate the waters of sustainability titled "Alaska Seafood Sustainability In Plain English."
With the seafood sustainability trend sweeping the world, it's important for foodservice operators to provide consumers with transparent information about the seafood they source.
As consumers have been inundated with eco-labels and color-coded 'eat-this-not-that' seafood sustainability messages, 'Sustainability In Plain English' offers a holistic perspective looking at what really constitutes sustainable seafood in Alaska.
"Sustainability In Plain English" simplifies the technical aspects that make Alaska's fisheries a model for the world including: Responsibility and Commitment, Governance & Management, and Enforcement. In addition, this resource aims to share the story and history behind the long-standing tradition of sustainability in Alaska.
To help illustrate the fishing lifestyle known by so many Alaskans, ASMI collaborated with famed Alaska artist Rie Muñoz (http://www.riemunoz.com). Known for her whimsical depictions of everyday life in Alaska, Muñoz illustrated the 25-page booklet with colorful original artwork.
This resource is available free for industry professionals by calling (800) 806-2497 or by visiting www.alaskaseafood.org.