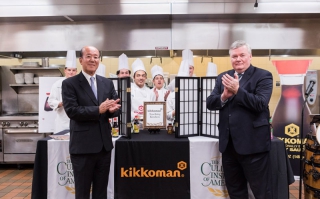 The Culinary Institute of America Unveils The Kikkoman Teaching Kitchen
The Culinary Institute of America (CIA) has dedicated The Kikkoman Teaching Kitchen at the college's Hyde Park, New York campus, honoring a more than 20-year partnership and ongoing mutual commitment to culinary education. The Kikkoman Teaching Kitchen will provide culinary students hands-on learning opportunities encompassing a variety of Asian cuisines and traditions with the support of ongoing donations of Kikkoman's complete line of authentic Asian sauces.
"We are grateful to have the support of such an influential industry leader as Kikkoman," said CIA President Dr. Tim Ryan. "This partnership helps ensure that the college can continue to provide the very best education to the future leaders of our profession."
Kikkoman established its relationship with the CIA in 1997, when the college opened its first branch location in St. Helena, California. The partnership has grown to include a variety of initiatives, from serving as a member of the Japanese Studies Leadership Council to engaging in the digital collaboration "Asian for a New Generation" online learning module. In addition to product donations and a leadership gift commitment, Kikkoman was an inaugural sponsor of The Culinary Institute of America's Worlds of Flavor® International Conference & Festival. Twenty-one years later, the company proudly continues its support of the conference to bring influential chefs together in the exploration of the latest culinary trends.
 "It is with great privilege we join The Culinary Institute of America in fostering culinary education that allows students to explore Asian flavor," said Kikkoman Sales USA, Inc. President and CEO, Masanao Shimada. "Kikkoman is grateful for the opportunity to help influence the next generation of industry leaders."