Delmar Introduces Poultry from The Culinary Institute of America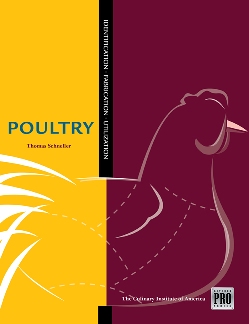 Delmar, a part of Cengage Learning and a leader in skills-based solutions for educational institutions, businesses and professionals, today announced the publication of Poultry: Identification, Fabrication and Utilization (ISBN: 1435400380, $71.95) by Chef Thomas Schneller—the third book in the new, multi-part Kitchen Pro Series from The Culinary Institute of America (CIA), the world's premier culinary college, based in Hyde Park, N.Y.
Poultry is a definitive manual that describes both time-honored and state-of-the-art methods of identifying species and cuts, purchasing, fabricating and storing of a comprehensive array of poultry ranging from domestically raised turkey and duck to quail and poussin, as well as wild birds.
This highly visual, full-color, hard-bound text is designed for chefs, foodservice managers, purchasing agents, suppliers, vendors, retailers, culinary students, instructors and food enthusiasts. It demonstrates basic preparation methods and tested recipes reflecting classic and contemporary cooking in a step-by-step format.
Schneller, who also authored Meat in the Kitchen Pro Series, is an associate professor at The Culinary Institute of America. He is the former chef and owner of Schneller's Restaurant, as well as former butcher and co-owner of Schneller's Meats, both in Kingston, N.Y., where he was also assistant chef and manager of Schneller's Caterers. His experience gives him a unique view to the market from both an educator and business operator's standpoint. Additionally, he is a Certified Hospitality Educator (CHE) through the Educational Institute of the American Hotel & Lodging Association.
Schneller shares his considerable industry experience throughout the 320 pages of Poultry. For example, he suggests more exotically marinated and/or grilled chicken breast to add value to entrée salads. "I anticipate a growth area in applications for dark chicken meat, particularly the boning and stuffing of legs to enhance a common protein," said Schneller. "Working from the whole carcass in lieu of fabricated parts can save money; to illustrate, a roaster chicken boned out flat, stuffed and rolled, then tied and carved to yield light and dark meat on the plate increases plate elegance and commands a higher menu price."
As with the first two segments in the new Kitchen Pro Series released earlier this year—Meat and Fish and Seafood—Poultry captures and offers perspective on prevailing consumer and foodservice issues such as local sourcing, heritage breeds, animal-production practices, maximizing secondary cuts to control food costs, and flavors and cooking methods that meet diner demands while increasing restaurants' check averages.
"Kitchen Pro Series books are valuable assets for anyone who wants to identify and properly handle the best-quality products among the wealth of food choices available in the global marketplace," said Jim Gish, senior acquisitions editor at Delmar, Cengage Learning. "Poultry continues the fresh, easy-to-use, comprehensive instruction for consumers, professional chefs and restaurant operators seeking economical and flavorful cooking solutions. Plus, as with the previous and forthcoming books in the series, Poultry is a beautifully designed and illustrated print resource that will add distinction to any cook's library."
For culinary instructors, each subject component in the Kitchen Pro Series is accompanied by an Instructor's Manual, a valuable resource that provides review and test questions, course outline, teaching tips and guidelines, objectives and key terms. The Kitchen Pro Series comprises six components, the final three of which will release later this year and next. For more information, visit www.culinary.delmar.com.