CIA Provides Scholarships to Winners of NAACP Culinary Competition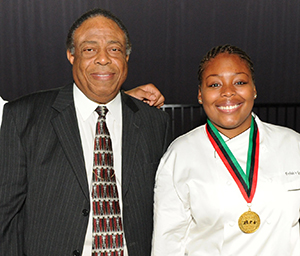 For the third straight year, the winner of the culinary competition at the National Association for the Advancement of Colored People's (NAACP) Academic Cultural Technology & Scientific Olympics (ACT-SO) will be enrolling at The Culinary Institute of America (CIA). Frehdee Gatewood of Houston, Texas, was the gold-medal winner at a cook-off held at the Mandalay Bay Resort & Casino in Las Vegas last summer. By winning the event, Gatewood earned a half-tuition scholarship to the CIA. She enrolls at the Hyde Park, N.Y., campus this month, majoring in culinary arts.
Last year's gold-medal winner, Darrell Crawford of Chicago, is beginning his CIA studies in January 2015, as well. Karina Yepez, who won in 2012, is currently a sophomore.
"Winning the competition meant so much to me," says Yepez, who grew up in Los Angeles. "It showed that you can actually live your dreams and push forward for them to come true. And being at The Culinary Institute of America is the greatest way to pursue those dreams." She is currently completing her externship field study at the Sea Island Resort in Georgia, and plans to start her own catering business and become an executive chef after earning her bachelor's degree in management from the CIA.
Among the judges at the ACT-SO competition were CIA ambassador and former faculty member Arnym Solomon '69, who also presented awards to all the winners, and Susan Wolfla '94, executive chef at Mandalay Bay.
---
Photo:
Frehdee Gatewood of Houston accepts congratulations from Arnym Solomon of The Culinary Institute of America after winning the culinary competition at the 2014 NAACP Academic Cultural & Technology and Scientific Olympics. Gatewood earned a scholarship to the CIA, joining the 2012 and 2013 winners as students at the Hyde Park campus. Courtesy Arnym Solomon