Olives from Spain Announces Winners of 2014 Student Recipe Challenge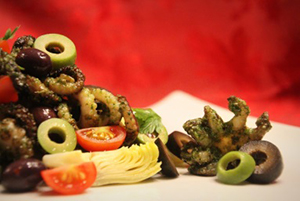 Olives from Spain and The Culinary Institute of America (CIA) have selected the winners of their 2014 Scholarship Competition and Recipe Challenge. The competition, open to CIA students in all three U.S. campuses, challenged students to submit recipes featuring Olives from Spain shown in innovative, versatile new culinary applications, from starters and tapas to flavorful entrees.
The inspiration behind the contest was to educate the future generation of culinary professionals on the benefits and virtues of sourcing Olives from Spain, the largest exporter of table olives worldwide. With a wide variety of presentation forms and varieties available, Olives from Spain are versatile, nutritious and work across many cuisines. While only three winners were selected, creativity and passion were demonstrated across all of the students' applications.
Laura Millan was the first-place winner, receiving a $5,000 scholarship. She entered her recipe, Olive Marinated Baby Lamb Chops with Olive Relish in the category of Tapas, Appetizers and Small Plates. Millan's lamb recipe was inspired by her work at the restaurant Mugaritz in San Sebastian, Spain. She used flavors from various pintxos and tapas that inspired her during her stay there. Featuring mixed olives from Spain, the starter is "meant to be eaten off the bone as a lamb pop," she explains.
The second-place winner, Michele Gargiulo, won for her Siesta Seafood Salad (pictured) and received a $3,000 scholarship. Gargiulo's colorful salad featuring Spanish green and black olives was influenced by her family's holiday seafood feast, after which they take a break or "siesta" before continuing their meal.
Matthew Johnson, the third-place winner, entered his Chicken Bocadillo with Olive Tapenade and Pesto recipe in the Sandwich/Wrap category and received a $2,000 scholarship. His dish was inspired by traditional Spanish bocadillos and featured black and green olives.
Contest entries were judged by CIA chef faculty and a panel of experts appointed by Olives from Spain based on the following criteria: prominence and appropriate use of Olives from Spain, taste, creativity/originality, appearance and operational feasibility.
For more information on and recipes featuring Olives from Spain, visit http://olivesfromspain.us.