Texas Team Wins Management Competition at National ProStart Invitational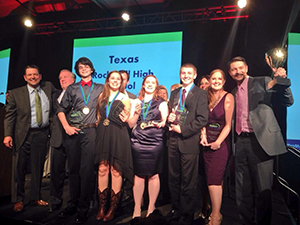 It was a familiar sight at the recent 2014 National ProStart Invitational Awards Dinner in Austin as the teams from two Texas high schools waited to hear the results after demonstrating their mastery of restaurant-leadership skills in a fast-paced culinary and restaurant-management competition.
For the second year in a row, the culinary team from The Academy of Culinary Arts & Hospitality Management at Byron Nelson High School in Trophy Club, Texas, and the management team from Rockwall High School in Rockwall, Texas, won their competitions at the Texas ProStart Invitational and represented the Lone Star State at nationals, where ProStart champions from 46 states, territories and Department of Defense bases competed for their share of a total of $3.75 million in scholarships.
The Rockwall team (pictured) repeated its state success and took first place in the management competition at the 2014 National ProStart Invitational!
In the management competition, teams developed an original restaurant concept to present to industry judges and applied critical-thinking skills to address challenges restaurant managers face in day-to-day operations. The Rockwall team's concept was The Grate American Grilled Cheese Factory, a quick-casual restaurant serving fresh, gourmet-quality grilled-cheese sandwiches with the slogan, Two GRATE Loves: Our Food & You!
"This national title and our back-to-back state champion titles are a true representation of dedication and hard work by my students," said Cody Hayes, Culinary Arts chef-instructor at Rockwall High School. "They realize what a great opportunity they have to win scholarships through this wonderful program and are constantly motivated by that. My students will now be able to attend college because of this. Representing the great state of Texas at the National ProStart Invitational was a true honor, and we are all blessed to be a part of such a fantastic program supported by the Texas Restaurant Association and National Restaurant Association."
The Byron Nelson High School culinary team also did an outstanding job, placing seventh in the culinary competition in which they had 60 minutes to prepare a three-course menu and were judged on knife skills, chicken fabrication and safety and sanitation. Their menu featured a seared diver scallop topped with a quail egg, Japanese-inspired crab salad, organic carrot-mango reduction, mosaic of avocado; dried-fruit-stuffed pork tenderloin, butternut-squash Israeli couscous, brown-butter Brussels sprouts, pork glacé and butternut-squash crisps; and a coconut-macadamia cake, pineapple vanilla compote, white-chocolate crème Anglaise and brûlée banana.
"It is inspiring to watch these talented students compete with the passion that we saw at this year's Texas and National ProStart Invitational events," said Richie Jackson, CEO, Texas Restaurant Association. "We know they will take the experience gained to propel their dreams and achieve rewarding careers in the restaurant industry."