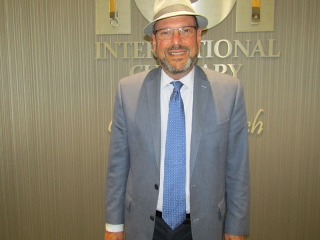 Three-part Capstone Project Pulls Together a Culinary Education
29 March 2019
End-of-year project summarizes recipe development, math, pricing, ordering, written and oral presentations, teamwork, and cooking skills.
By Chef Adam Weiner, JD, CFSE
My students do a Capstone Project which summarizes recipe development, culinary math, pricing, ordering, making written and oral presentations, teamwork, and cooking. This project can be used in all levels and types of culinary classes ranging from high school classes for cooking at home, high school professional level, vocational school or trade school.
The assignment is in three parts.
The first part is a written assignment in the form of a memo. (I have included a sample memo at the end of this article.) The memo is from me to my students and tells them they are going to play the role of young cooks at a major hotel. It also lets them know they will receive a second memo from the catering manager of a real hotel.
The second capstone project section involves following the instructions in a memo from the catering manager at the hotel. (I have included a sample memo at the end of this article.) Basically, students are told they are up and coming cooks and are expected to create a special party for 100 people. They are told to do research, create a menu from books (or the internet), scale the recipes for 100 people, and then draft an ingredient order form. This is a team project and I assign the teams. (Comment: I assign people who don't work well together when creating the teams. As detailed in Working In Teams Needs To Be Taught and Picking Teams, when students go to work they don't get to pick with whom they work. Whether or not they like other people isn't relevant. The job still has to get done, done well and on time.)
For the third project part, I have the group actually make one or two recipes from their project. Note, when I do this I tell them to keep the ingredient size and number of portions exactly as in the original recipe to keep costs and time under control. (Of course, you could have them make 100 servings which helps teach volume production.)
One of the beauties of this capstone project is that it is infinitely adjustable and sizeable. You can change:
Cuisines: I have used Hawaiian, Cajun, New England, Barbecue, French, Greek, Spanish, and even New Zealand. Try to pick a cuisine in which your students are not necessarily knowledgeable. (See Teaching International Cuisines.)
Themes: You can create or vary themes to fit your class. You could range from a Thanksgiving Dinner for 8 to food at the senior prom.
Head counts
Buffet vs. plated
Number of courses
Research completed with a book, on the internet, or from your class work during the semester.
You can have teams do the same project or different projects at the same time.
You can adjust the amount of time you allow the project. It shouldn't take more than a couple of hours but I've learned students will take as long as they are allowed.
As mentioned above, below are two memos I used with my students. The first memo is to them from me with the instructions for the project. The second is from the executive chef at the hotel to each team.
You are welcome to use these memos "as is" or tweak them in any way suitable for your class.
Example A Memo: From the Teacher to the Students
To: All Students
From: Chef Adam Weiner, JD CFSE
Culinary Arts Instructor
Date: March 6, 2019
Due: March 8, 2019
Re: LUAU PROJECT
As a student of the culinary arts, you should not only be knowledgeable in basic cooking skills, but you should also have a working knowledge of:
Menu planning
BOOK research to come up with recipes and menu ideas which you have never worked with before
Product ordering
Catering
Working in teams to complete all the above
To re-enforce what you have already learned and practice these skills we will do a bit of role playing. For this assignment, you will pretend you are people who cook at a Hyatt Hotel on the island of Kauai, Hawaii. You have just been given the attached memo. Your assignment is to give the completed project to me by the end of the class period on March 8, 2019. I will pick your groups.
I have samples of previous projects available for your review. Please ask.
If you have any questions, you must approach me as a team. You will not be allowed to ask individual questions since this is a team project.
Remember, a large part of this assignment is about following directions.
On the right side of my desk are 13 Hawaiian Books. You may use these books, and only these books. You will need to have a book title and page number on each recipe you use. You may not use your phones or computers.
Example B Memo: From the Catering Manager to the Students
To: Each Team
From: Manager Hyatt Hotel Catering Department
Re: Luau Event
Sent: March 6, 2019
Due: March 8, 2019
The hotel has been hired to cater a beach luau for 100 people. The company holding the party has asked for a traditional luau-style event. The hotel's executive chef has told me that each of you is a rising star in his kitchen and he thinks you can tackle this assignment. If you are successful, there is a promotion in the works for each of you.
Your assignment:
Design a menu with two appetizers, two entrees, four traditional side dishes, and three desserts. Remember, traditional luau is the theme. Don't offend the executive chef by putting something on the menu that doesn't match the theme. (For example, Death by Chocolate is not a traditional luau dessert.)
You must obtain everything from the 13 Hawaiian cookbooks made available to you and not from the internet. You need to scale the recipes to feed approximately 100 people. This must be done in writing. So, for example, if a recipe feeds 8 you would multiply it on paper times 12 to give you 96 servings. Do not write in the books. Your phones are off limits for this project.
Watch food costs. Although you can use expensive ingredients like shrimp, steak, etc. try to minimize their use.
You want to show off the buffet table for the guests with a wide variety of different things, tastes, textures, color, etc. DON'T have something like pork spring roll appetizer with pork chops with Spam potato salad, with pork fried rice, etc.
Author's Personal Note: Of all the issues of this assignment, my classes always seem to have the biggest problem with this one. We are currently doing this project as I write this article and one group—in spite of this paragraph - served linguica sausage with pineapple, Spam musubi (basically a Spam Sushi roll), oven style kalua pig, teriyaki sauce pork ribs and, yes even pork fried rice. I am relieved to say that the dessert, Haupia, which is a coconut milk pudding, did not contain pork.
Write a complete order list with all ingredients including quantities.
Write a memo to your culinary arts instructor explaining what you liked about the project, what you didn't like, what was the best part of the project, what was the worst part and don't kiss up.
You may/might/possibly be cooking the food for your guests in the next several days.
---
Chef Adam Weiner, CFSE, teaches a 20-week Introduction to Cooking program for JobTrain on the San Francisco Peninsula, and is a frequent presenter at CAFÉ events throughout the nation. He is also a recipient of the prestigious Antonin Carême Medal.