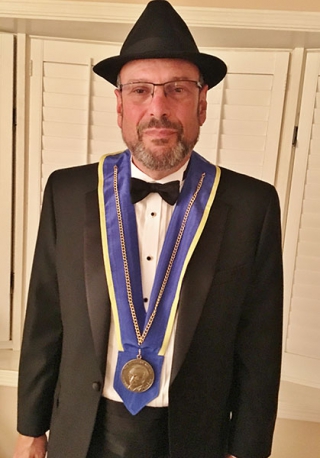 Beyond Poke Bowls
04 September 2018
Teaching the bowl trend at the beginning of the school year.
By Adam Weiner, JD, CFSE
In last month's article, I noted our classes don't normally get the strongest academic students and you should give your students hands-on work as soon as possible to keep their interest strong. I also referenced a previous article on Motivation.
Keeping on with that theme, I am going to suggest that simple bowls can be made relatively early in your class (don't worry, they don't have to be poke) to get your students preparing food early in the semester.
The bowl craze is—pardon the pun—bowling over the country. Many assert this trend arose from Hawaiian poke bowls. The interesting thing is that I have been blessed with the opportunity to travel to several of the Hawaiian Islands fairly regularly over the past three decades and I can say the craze didn't start there. Poke is a casual dining item in Hawaii. Big at picnics and back yard events and sold deli style in markets and fish stores. Only recently have the expensive touristy restaurants carried it. As recently as July of this year, I saw very few poke bowls on the menus of the places I went in Hawaii.
My personal theory is that poke bowls were created because some chef somewhere had leftover poke, left over rice, and some sauce. She put them together into a bowl and stood in the dishwashing station eating them at the end of the night. In other words, bowls are nothing more than the trendy (and pricey) way that chefs and cooks have eaten for years. Take a little bit of this and that from leftovers and combine them into an easy to eat format while standing up in the kitchen at the end of the day. We all have done this in our classrooms. I at this way yesterday, where I took parts of salads, carrots and chicken made by several different groups, combined them in a bowl and ate it while washing dishes.
In fact, the first restaurant specializing in bowls I saw was as recent as four years ago. I wasn't in Hawaii, I was in Missoula, Montana, where I was touring the college with my son. It was called Five on Black, a Brazilian Bowl restaurant. That's right - Brazilian. It was fast, tasty, different and inexpensive. It was a big hit with college students.
Let's get down to business. A bowl needs:
Base
Protein and/or vegetable
Sauce
One or more toppings and/or garnishes
Each part is a layer. The bowls are not tossed like a salad. If your students are having problems grasping that concept tell them to consider they are building a yogurt parfait with distinct layers or making an ice cream sundae. They are not making something like a Cesar salad where everything is combined.
Please note each layer could be more than one item. For example, you could have a protein AND vegetables, or multiple toppings. However, this is also a good time to teach your students that sometimes too much is too much. For example, having three vegetables and chicken might be a great bowl. Having 14 vegetables, poke, chicken, tofu and pecans would be too much of a mish mash.
For example, a standard poke bowl would have a rice base, poke, a sauce - perhaps soy, topping of sesame seeds, and garnished with nori (dried roasted seaweed).
But, that's not the be-all and end-all of bowls. Take a look at the menu for Five on Black and you see wonderful ideas which you can tweak for your class. One of my favorites is their using mixed greens for the base.
Poke is expensive and requires safe food handling. Most of the proteins used at Five on Black have the same concern. But, you can teach your students how to make bowls with inexpensive ingredients prepared early in the semester before they have a lot of training on how to sauté, grill, bake, roast, etc. (Note, for articles on how to teach these techniques, please see my 75th article which is an index of the previously published 50 Minute Classroom articles.)
Let me give you some ideas. Please note, these are just suggestions and you are welcome to add more of your own. Also, feel free to mix and match. For example, my son's favorite bowl comes from Pono's Hawaiian Grill in Santa Cruz which features poke and kalua pork (Hawaiian style pulled pork.) But remember, don't let your students get overly complicated. You want to be able to taste each of the four layers.
Bases
White rice, brown rice, couscous, elbow macaroni, quinoa, whole beans, salad, greens (cooked or raw), ramen or other Asian style noodles, Italian pasta, blanched vegetables
Protein or Vegetable
Cooked or raw tofu, cooked or raw vegetables, sausages, poke (of course), canned tuna, cooked chicken (made in class or canned), kale or other greens (cooked or raw), turkey, meatballs, cut up hot dogs. You could even use sliced or cooked fresh fruit. (Please see Fruit Goes Savory in the Classroom.)
Sauces
Teriyaki, soy, ginger, vinaigrette, olive oil and vinegar, mustard sauce, barbecue sauce, yogurt sauce, flavored mayo (or even plain if you can't make a flavored one), any salad dressing, Sriracha, hot sauce, cocktail sauce
Toppings
Seaweed dried or fresh, sesame seeds, poppy seeds, diced onions, sliced mushrooms, diced fruit such as pineapple or melons (avoid apples they brown fast), berries, raisins, dried cranberries, nuts, sliced or diced, grated cheese
I've had the pleasure of knowing the California Walnut Board for years. They have been supporters of CAFÉ for quite some time. Recently, they sent out an e-mail that said grain bowls were the next salad. They referenced a great two page article on creating grain bowls. I strongly recommend you take a look at this for easy, healthy and cost-effective lessons for your class. Note, they have bowls being five parts and not four like mine. They have a vegetable component and a protein component.
According to this article, bowls are a great way to use leftovers in your classroom and at home. Let's get your students motivated and let's go bowling.
---
Chef Adam Weiner, CFSE, teaches a 20-week Introduction to Cooking program for JobTrain on the San Francisco Peninsula, and is a frequent presenter at CAFÉ events throughout the nation. He is also a recipient of the prestigious Antonin Carême Medal.