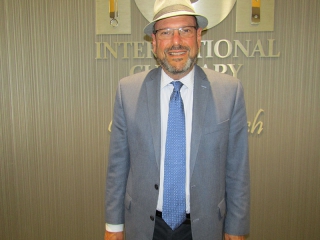 Gluten-free Recipes Developed by Chef Adam Weiner
09 April 2018
Chef Weiner shares his own gluten-free baking recipes with readers completing his gluten-free series.
By Chef Adam Weiner, JD, CFSE
My last two articles focused on teaching your students about gluten and gluten-free cooking. The first was Culinarians Should Know the Gluten Gamut: From Gluten Free to Intolerant and the second was Learning About Gluten-free Baking and Cooking. This month is the last of the series on gluten. This article features gluten-free recipes I developed.
Before the recipes, let me make two comments:
As I have mentioned in the previous two articles, gluten is a generic term applied to some types of protein found in different grains. The easiest way to make something gluten free is not use any grain products. (For example, my most requested cookie is my lemon coconut macaroon. My second is my flourless peanut butter cookie.)
All purpose flour tends to be fairly uniform across the country. Gluten-free flours are not. Thus, you might have to add in Xanthan Gum or Guar Gum to recipes where I did not include them or leave it out of recipes where it is listed as an ingredient. Also, some gluten-free flours tend to be more bitter than others. It is my understanding that the more ground nut meal in the gluten-free flour the more bitter the overall taste. Play around and find a generic flour that works. Again, recipes with stronger flavors (such as the gingerbread below) are better at masking this bitterness.
Note: Like any recipe, I recommend you try it yourself outside of class before giving it to your students as a lab project. Some of the recipes require more than one class period and some yield small quantities while others large amounts. Choose the ones appropriate for your class:
Lemon Coconut Macaroons
Peanut Butter Gluten Free Cookies
Gluten Free Ginger Bread
Gluten Free Scones with Fresh Fruit
Gluten Free Snickerdoodles
Dried Fruit Cookies
Gluten Free California Avocado, Coconut and Pineapple Muffins
---
Chef Adam Weiner, CFSE, teaches a 20-week Introduction to Cooking program for JobTrain on the San Francisco Peninsula, and is a frequent presenter at CAFÉ events throughout the nation. He is also a recipient of the prestigious Antonin Carême Medal.