50-Minute Classroom: Shake Up Your Training, Mix Up Your Style
25 March 2015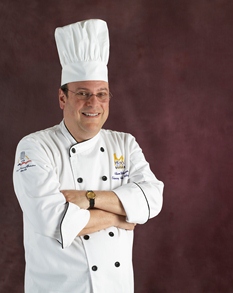 On a recent trip to Hawaii, Chef Weiner had an epiphany: Teaching our students how to cook isn't good enough. To better prepare them for the real world, we also need to introduce students to the different formats of serving. Here are 10 effective ideas that fit nicely within a shorter class timeframe.
By Adam Weiner, CFSE
One of the beauties of being active with CAFÉ is that you get to meet fellow culinary instructors, culinarians, students and chefs from around the country. I joke around that every time I return from the Leadership Conference I have to buy a larger business-card holder.
(Speaking of the Leadership Conference in June, I will be giving a presentation entitled "Teaching the Basic Cooking Principles in 50 Minutes." It is designed specifically for high-school teachers. I hope you can attend, because I would love to have participation from a broad range of instructors.)
There is another way that being active in CAFÉ expands your network: You use CAFÉ to find others in the field in places where you will be travelling. Several months ago I mentioned to Mary Petersen, the president of CAFÉ, that my wife and I were going to Kauai. She introduced us via e-mail to Martina Hilldorfer, culinary-program coordinator and chef at the Culinary Institute of the Pacific at the Kauai Community College.
Chef Martina was an executive chef for Starwood Hotels and Resorts before becoming an instructor. I was delighted when she told me that my instructor's articles for CAFÉ were a great resource for her as a new teacher and that they gave her ideas on how to adapt from being a chef to becoming a chef-instructor. It was fun that she knew about me before we met.
Chef Martina gave my wife and me a tour of her department's facilities. They have about 40 to 55 students who work in several different kitchens, including an amazing state-of-the-art combination demo and hands-on kitchen. However, it wasn't the kitchens that impressed me the most. What really grabbed my interest was the wide array of actual production cooking that each student has to do in the two-year program. These programs are not just academic labs-- they actually feature preparing and serving food to real customers. The customers include students from the campus, campus faculty and staff, and the Kauai dining public, as well.
Each student will work in fine dining in three different formats (Continental, Asian and a practical section where they create their own restaurant and menus.) They work casual dining for lunches. They prepare food to go. They even prepare bento boxes, sandwiches and snacks to be sold in the bookstore.
Of course, there are also occasional catering and special events, as well. The week I was there I got to watch the students prepare and serve brunch for more than 1,500 as part of an ACF event that paired local purveyors, chefs and students. Under three large tents they prepared a multi-station brunch buffet ranging from custom omelets to eggs Benedict to Kauai coffee. Carving stations featured students learning how to carve roasts and ham while the guests watched attentively.
The practical implication of this hit me like a ton of bricks. The students come out well-rounded in a multitude of service formats. I realized that I might be short-changing my students, and you might be doing the same thing. As culinary instructors we get hung up on teaching our students basic cooking principles such as sauté, braise, steam, etc. We teach them how to follow recipes, how to create their own recipes, how to work with mystery ingredients to create something beautiful and how to improvise. We teach individual plating and buffet presentation.
What we often forget is that we need to give our students an introduction to the different formats of serving. We need to expose them to catering, corporate dining, fine dining, casual dining, food trucks, prepared food—the works! Learning how to cook isn't good enough. We need to have them learn about the many different facets of the industry.
But, how to do this in a 50-minute context? Here are a few ideas:
Ask your students to list the different types of places that they can work in culinary, either as a warm-up exercise or as homework. Stress that you don't want specific names of places, but types of places. For example, instead of saying "Outback, Olive Garden and Fridays" they should say "casual dining." Go around the room and ask each student to list a category, then the next student, etc. Write them on the board. Only have the student mention a category that hasn't been said before. Strive to get at least 50 different categories. (It's not as hard as it sounds. Remember places like hospitals, cruise ships, stadiums, amusement parks, airports, churches, shelters, military bases, jails, college dorms, etc. You already have 10 categories right there.)

Do large production cooking once in a while. For example, have your students turn out large amounts of cookies for charity or for selling at fundraisers. Instead of having your students make one batch of cookies, see how many they can make in a few days. (Suggestion: mise en place one day, prep the second day, baking the third.) Cookies, sandwiches, salads, etc., lend well to this. Sell them on campus to raise money for your program, or donate them to a food bank or shelter.

Have your students design their own menus for different styles of events. I recently judged an FHA HERO competition where the junior-high students had to design a menu for a summer picnic for two, and the high-school students had to design a wedding. They prepared menus, order lists and nutritional information. Have your students do this for a variety of food formats such as fine dining or as a corporate lunch for 1,000 or a hotel brunch for 20. Note: This also cuts down on your food costs because no cooking is involved.

Have students either individually or in groups research and report on what is involved in different types of establishments. You could even have them design their own restaurant, café, food truck, etc. Again, no food costs.

Get guest speakers. This is my personal favorite because students pay far more attention to guest speakers than they do to the regular instructor. Check with your local ACF chapter and restaurant and catering owners for possible guests. Corporate-dining companies such as Bon Appétit Management (a subsidiary of Compass Group USA) and Sodexo are usually more than happy to send someone to talk to your students. SYSCO has regional chefs and others who could talk to your class.

Check the sponsor page at http://www.cafemeetingplace.com/our-sponsors of the CAFE website. Many of these sponsors have representatives in your community who can talk about not only their product, but the industry, as well.

Have a fine-dining experience (or at least upscale casual dining) for your administration or fellow teachers. Have your students prepare and serve a three-course meal of soup or salad, an entrée with a side, and a dessert. You will be the most popular teacher in the school after that.

Have your students enter cooking competitions. You know your area, so you know what's best for your students. This will expose them to a wide variety of cooking styles and allow them to meet a wide range of different types of chefs, restaurant managers, etc.

Movies: It might take a couple of class days, but show a movie that features different types of culinary styles. Ratatouille works well (I even have a test that works well with it. E-mail me at

This email address is being protected from spambots. You need JavaScript enabled to view it.

if you want a copy); Jiro Dreams of Sushi and The Hundred-Foot Journey are also good. As with any movie, watch it ahead of time not only to make sure it is appropriate for your class, but to note down points you want to emphasize and discuss.

Field trips: Remember all of those different culinary establishments mentioned in No. 1 above? How about a field trip or two?
So, thank you Chef Martina and Kauai Community College for an amazing experience. Thank you Mary Petersen for introducing us. And, for everyone else, keep networking.
---
Chef Adam Weiner, CFSE, teaches a 20-week Introduction to Cooking program for JobTrain on the San Francisco Peninsula, and is a frequent presenter at CAFÉ events throughout the nation.