50-Minute Classroom: Profit and Fun With Gingerbread Houses
10 December 2014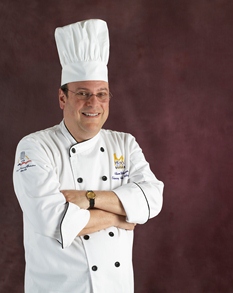 'Tis the season, says Chef Weiner, who among other things suggests a "Build a Gingerbread House" station to raise needed funds for programs.
By Adam Weiner, CFSE
My article on teaching Thanksgiving side dishes was so well received by "Gold Medal Classroom" readers that Mary Petersen, president of CAFÉ, suggested I consider writing how to make gingerbread houses.
I toyed with this sweet suggestion (pun intended) and decided to twist it a bit. Instead of writing about how to make gingerbread houses, I am going to write how you can have fun with them, as well as possibly make some money.
First, let's make gingerbread houses for fun.
1.Have your class make their own gingerbread houses. This is a multi-task activity that includes, among other things, baking and decorating. The easiest way to do this is to make the gingerbread pieces on one class day and assemble on the next.
2.Have your students work with young children in your school or community (or even students' siblings) to build their own gingerbread house. JobTrain, where I teach, has a child-development center where students and the community can have quality childcare while the parents are at school or work. My culinary class dyes Easter eggs with them, and in December my students work with the youngsters to make gingerbread houses.
To do this we make multiple pieces of gingerbread "siding" and royal icing. I buy candy pieces, gumdrops, etc. We lay all of these out in small bowls and give each child a paper plate. My students help the kids construct gingerbread houses. Some suggestions:
The younger the child, the less attention span. For preschool kids you should plan on being able to assemble everything in less than 20 minutes.
If you can't bake enough sides and roofs within the time constraints of your class, graham crackers work really well as an alternative. No one complains, and let's face it: No one eats a gingerbread house, anyway.
Have old T-shirts available for the youngsters. My wife always knows when we are going to dye eggs or make gingerbread houses because I raid my T-shirt drawer.
Don't worry about the kids making a traditional "house." Gingerbread huts are just fine.
Remember, you might need to store the houses until after the school day to allow them to set and have them in a non-consumed format for the students to take home.
Second, let's talk about making gingerbread houses for profit. At this year's CAFÉ Leadership Conference in June, I led a roundtable discussion. A number of high-school teachers were discussing with me how they were unable to collect lab fees, and how they did not receive much—if any—funds for ingredients from the school district. Several teachers stated that they paid for their ingredients by selling lunches to teachers and staff.
I kept this idea in the back of my mind. My son was assistant theater director in his high school's musical, and the drama boosters were collecting cookie donations to sell at intermission. (By the way, my brainchild was to make gluten-free cookies for them to sell. They moved quite well.)
Finally, last month my son and I toured University of Nevada at Reno where one of the on-campus clubs was selling oatmeal to raise money. To make it more appealing, they had a toppings bar. You bought the oatmeal and paid a little extra for each topping.
In writing this article I put these two ideas together. To raise money for your program, you could have your students make gingerbread houses to sell to staff, faculty and other students. Alternatively, you can do a variation of what I do with the preschool students. Set up at your school a "Build A Gingerbread" booth. We are all acquainted with the Build-A-Bear stores. Do something similar where students pay for the privilege of putting together their own gingerbread houses. Your students make the components of the house (you can make the gingerbread sides or buy graham crackers) and you let people put them together.
A couple of pointers for the "Build A Gingerbread House" station:
1.Many localities do not allow the selling of snack food or sugary food on campus. If this is an issue, stress to your administration that you are not selling sugary food. You are selling gingerbread houses, and who eats a gingerbread house?
2.Experiment and practice with royal icing before you try to mass produce it for sale. Royal icing needs a blender with some oomph, and it is affected by different temperatures and humidity.
3.Don't worry about flavoring or coloring your royal icing. Again, no one will be eating it.
4.Have bowls of gum drops, M&M's, gummy bears (which look great on a gingerbread house), chocolate chips and candy canes available for the students to assemble.
5.As with the pre-school students, many students will just build a gingerbread hut. This is fine. You are out to make some money and for the student body to have some fun. Don't let your aesthetic side get in the way.
6.Royal icing might, in certain conditions, take a while to set. You might need to have a place where people can leave their gingerbread masterpieces and pick them up after school.
So, make money, have fun, or both. HAPPY HOLIDAYS!
---
Chef Adam Weiner, CFSE, teaches a 20-week Introduction to Cooking program for JobTrain on the San Francisco Peninsula, and is a frequent presenter at CAFÉ events throughout the nation.