50-Minute Classroom: The "First 50" Index
28 July 2014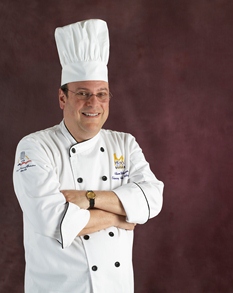 Chef Weiner lists his first 50 articles written for CAFÉ's "The Gold Medal Classroom," for the benefit of readers.
By Adam Weiner, CFSE
This article is dedicated to Ms. Terry Jones of Gallup high School in New Mexico. At the June 2014 CAFÉ Leadership Conference in Salt Lake City, she sat down next to me and said, "Adam, I print out each of your articles and keep them in a notebook on my desk. I made an index, and before I teach a new subject I re-read the appropriate article."
Could anything be more musical to my ears?
Toward the end of 2008 I was contacted by Brent Frei and Mary Petersen asking if I would be interested in writing the regular editorial department, "50-Minute Classroom," for CAFÉ's "The Gold Medal Classroom." I told them that I would do it temporarily for a few months until they found a permanent columnist.
I enjoyed working with both of them so much, and so enjoyed the challenge of taking culinary-academy subjects and figuring out how they could be taught in a high-school context that more than four years later I am still "temporarily" writing the column!
This is my 50th article, and I thought that Ms. Jones' idea was a good one. So, below is an index to the previous 49 articles. All except Number 5 are archived on CAFÉ's website and hyperlinked. (No. 50—this article—will join the archives in September.)
1. "Teaching Presentation in 50 Minutes," January/February 2009
2. "Teaching with Puzzles," March/April 2009
3. "At-a-Glance Refresher" (a culinary cheat sheet), May/June 2009
4. "Out of the Box" (on the reality of cooking with convenience product), September 2009
5. "Cooking Quotes," November 2009
6. "Teaching Students How to Plan Their Cooking," January 2010
7. "The Importance of Preparation among the Five 'P's," March 2010
8. "Teaching International Cuisines," May 2010
9. "Ten Key Points of Separation" (amateur vs. professional cooks), June 2010
10. "Braising," September 2010
11. "How to Buy Knives, Part 1," October 2010
12. "How to Buy Knives, Part 2," November 2010
13. "How to Buy Knives, Part 3," December 2010
14. "How to Buy Knives, Part 4," January 2011
15. "Interview Skills," March 2011
16. "Help Your Students Keep Their Jobs," May 2011
17. "Teaching Baking in 50 Minutes," July/August 2011
18. "Assessing Culinary Math Skills," September 2011
19. "Motivation" (of students), October 2011
20. "Foodservice Economics," November 2011
21. "Teaching Food Costs," December 2011
22. "Sauté," January 2012
23. "Chocolate Dipping," February 2012
24. "Teaching Nutrition, Part 1," March 2012
25. "Teaching Nutrition, Part 2," April 2012
26. "Assessment," May 2012
27. "Teaching Students How to Get a Job, Part I," June 2012
28. "Teaching Your Students How to Find a Job, Part II," July/August 2012
29. "Salt," September 2012
30. "Capitalize on Boards, Commissions and Associations," October 2012
31. "Making Sure Everyone Shares in the Work, Making Sure Everyone Gets the Glory," November 2012
32. "12 Things for Students to Know" (working in a commercial kitchen), December 2012
33. "Do You Teach Recipes or Technique?" January 2013
34. "Reading and Writing Recipes," February 2013
35. "Teaching Steaming," March 2013
36. "Teaching Grilling," April 2013
37. "Teaching the Value of 'Real' Networking," May 2013
38. "As Teachers, Always 'on,' All the Time," June 2013
39. "The 10 Hardest Things to Teach Young Culinary Students," July/August 2013
40. "Working in Teams Needs to Be Taught," September 2013
41. "Picking Teams," October 2013
42. "Playing Games," November 2013
43. "Volunteering for Young and Old," December 2013
44. "Teaching How to Prepare to Give a Non-Class Demonstration," January 2014
45. "Do You Need to Teach Science?" February 2014
46. "Science Your Students Need to Know," March 2014
47. "The Rest of the Science," April 2014
48. "Look for the Open Door. It Is There" (commencement speech), May 2014
49. "Teaching Essential Skills," June 2014
50. "The 'First 50' Index," July/August 2014
My next two articles will be topics suggested at the 2014 Leadership Conference: how to teach blanching in 50 minutes and how to order more easily and efficiently.
If you have suggestions for future articles, please e-mail me at This email address is being protected from spambots. You need JavaScript enabled to view it.or send a message to Chef Adam Weiner on LinkedIn.
Cheers to the next 50 articles!
Editor's note: "50-Minute Classroom" was conceived by Mary Petersen for the benefit of secondary-school foodservice educators. Chef Weiner is very receptive to feedback and suggestion, so we encourage readers to reach out to him with ideas for future topics, as the chef accepts them with great conscientiousness and gravity. He also welcomes critical review of and reaction to his recent articles.—BTF
---
Chef Adam Weiner, CFSE, teaches a 20-week Introduction to Cooking program for JobTrain on the San Francisco Peninsula.