A Lighter Shade of Green: Ecologically Responsible Catering
01 June 2009
By Douglas Alley, Johnson & Wales University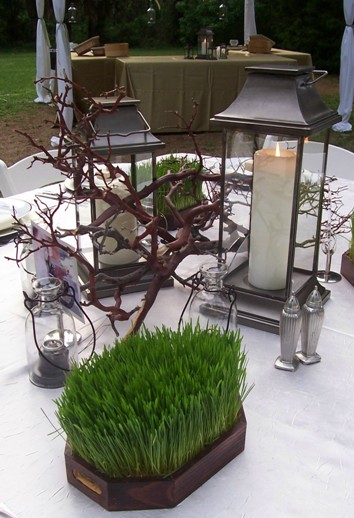 Many clients are now choosing to spend their dollars in ways that will have a positive impact on the environment.
Sustainability is not a passing trend, but a real lifestyle that has taken permanent roots. It is our responsibility to nurture the planet for future generations. The move toward the development of eco-friendly businesses is an absolute requirement, not just for the health of the business, but for the well-being and survival of the planet.

In perhaps no other industry is the need for a more ecologically aware business model more acute than in catering. Sometimes called the "Marines" of the foodservice industry, caterers often adopt a "take no prisoners" attitude when staging an event. Every day, all around the country, caterers routinely do the impossible: transforming grassy fields into swoon-worthy tented extravaganzas; converting mediocre rental spaces into the sweet stuff of bridal dreams, if only for a brief moment in time. While the results can be magical, the ecological toll can be staggering.
It used to be common for wedding clients to believe it was their right to do whatever they wanted on their special day. After all, the reasoning went, it was just ONE day. The problem with this thinking is that the "one" special day is multiplied by the millions of couples who marry each year.
As our society has evolved, more and more people have come to realize that everyday small decisions and actions can have tremendous consequences for the health of our planet. Many couples realize that the decisions they make for their wedding day can make a difference, and are choosing to spend their wedding dollars in ways that will have a positive impact. To encourage clients to make positive choices, eco-conscious caterers can offer consumers greener alternatives without sacrificing style or elegance.

Easy, Actionable Greening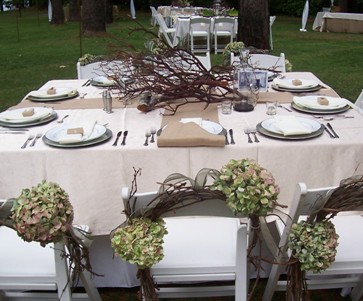 There are many small steps that a caterer can take to lessen his or her impact on the environment. Easy actions include switching to compact fluorescent light bulbs and using fuel cells and Sterno, now being manufactured with recycled plastic and less metal. When making capital expenditures, such decisions as choosing fuel-efficient delivery vehicles and ENERGY STAR®-rated appliances help to make running an eco-friendly operation automatic. These are only a few of the numerous ways in which small steps can make a big difference.

Another key factor is the creation of partnerships with local businesses that share a common ideology. Almost any locally produced resource can be a benefit, especially dairy, organic vegetables, poultry or flowers. By keeping it local, fuel usage, packing materials and emissions are all reduced. Switching from bottled water to municipal water for events is another small way to reduce the impact of the mountains of plastic bottles generated by the average special event. This can be achieved in a very simple and elegant way by serving the water in large recycled glass jars or pitchers with lemon, lime or cucumber slices.

In addition to these sound business practices, there are many ways that the average caterer or client can honor the natural world on the wedding day. Incorporating local natural elements into the design of the event is an excellent opportunity to remain true to the mission of a greener planet. Rather than importing Thai orchids, for example, perhaps reclaimed tree branches adorned with vintage chandelier crystal can be used in centerpieces. Even the party favors can be a force for good, rather than another useless trinket—couples can offer guests an evergreen-tree seedling in a customized recyclable tube from the National Arbor Day Foundation (www.arborday.org).

To appeal to consumers desiring a "greener" event, caterers should consider the pursuit of the carbon-neutral event. Carbon-neutral is the term coined to balance consumption with actions that help the planet to heal. To further foster the goal of a carbon-neutral event, caterers could calculate the carbon that will be used in the production of the special event and offer the client the option to purchase credits from companies that invest in clean energy projects. These "carbon neutral" companies pool resources to invest in large-scale development of projects such as wind power, solar power and land preservation to help our planet regenerate itself.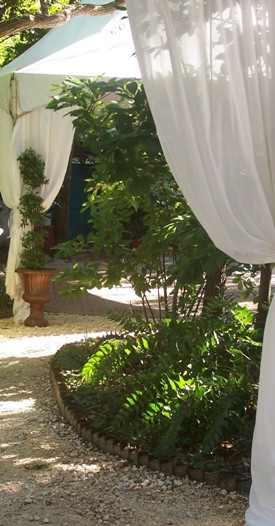 Success through Education
Before moving forward with any new concept that will have a direct impact on your business on so many levels, it's imperative to have a solid understanding and a clearly defined mission. This can only be achieved through education. Research your region to discover what is being offered to businesses and what resources are readily available and develop a core network for support. One interesting Web site that can offer help is www.SustainableCateringAssociation.com. It offers some valuable resources and information for the catering industry.

On the site, a definition is posted from the World Commission on Environment and Development that beautifully captures the essences of sustainability: "Forms of progress that meets the needs of the present without compromising the ability of the future generations to meet their needs." This one simple sentence should become a part of any eco-friendly business' mission statement that is truly focused on leaving a lighter "carbon footprint."
---
Douglas L. Alley is director of purchasing and storeroom operations at Johnson & Wales University's Providence campus. After graduating from J&W in 1989 with degrees in culinary arts (AS) and foodservice management (BS), Alley's career included positions with Trust House Forte, Guest Quarter Suites and Walt Disney World. He owned/operated the Fancy Tomato Catering & Event Design Co. in Grayton Beach, Fla., with his wife for 12 years. Alley received national recognition for his innovative designs and creative food presentations in Art Culinaire, Town & Country, Southern Living Weddings, Emerald Coast Weddings and Portico magazines. This resulted in his becoming the host/co-producer of a regional PBS cooking show, "Thyme in the Kitchen with Chef Doug" and culinary correspondent for ABC-TV affiliate WMBB News 13, Panama City, Fla.

Alley carries top awards from the IKA Hoga ("Culinary Olympics," gold-medal perfect score), Hotelympia (one gold/two bronze), Best Young Commis for Chaîne des Rôtisseurs USA, and Best of Show in Boston and Miami.