The Power of "Fresh" and "Scratch" in 2012
31 March 2012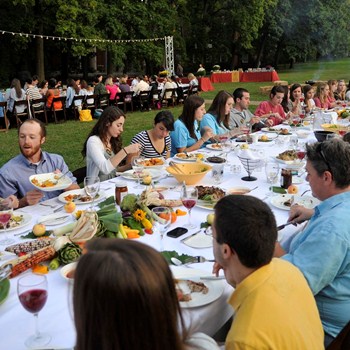 "Artisan" on the menu used to entice diners. Not so much today. And "local" trumps "organic." Meanwhile, overall restaurant spending is expected to grow.
Interest in where food comes from, as well as changes in restaurant spending, will both drive the foodservice rollercoaster in 2012, according to Mintel's latest report.
"Overall, restaurant economic prospects for 2012 look positive," says Eric Giandelone, foodservice director at Chicago-based Mintel. "In spite of the down economy, Mintel estimates that the U.S. restaurant industry will be worth $416.4 billion in 2012, showing that operators really have listened to consumer wants and needs and made appropriate changes."
In spite of economic conditions, most Mintel respondents (65%) who have visited a restaurant in the past month say they will spend the same amount at restaurants in 2012. Meanwhile, 12% plan to spend more. Of the 12%, the highest percentage of them (59%) say they will spend their extra dollars at a casual restaurant, followed closely by a family restaurant (57%).
Fresh and Local Fare
Vanderbilt Dining is already working on the fall-harvest menu for its third Farm to Fork dinner in September on the grassy grounds near the historic Wyatt Center on the campus of Vanderbilt University in Nashville. Conceived by director Camp Howard, CEC, as a way to showcase the university's relationships with local farms and dairies, food artisans, chefs and bakers, the family-style dinner served outdoors for 300 students, faculty and staff sells out within a couple of days. Last year, two long tables seating 150 each were preset with Winesap apples, locally baked breads, Kentucky apple butter and Amish pumpkin butter, as well as blackberry-sage water. The aromas of pork chops and zucchini grilling nearby and fresh-from-the-oven caramel-apple bread pudding with sorghum butter sauce added to the sensory experience, as did a local rockabilly band.
Interest in where food comes from and a desire for fresh, unprocessed food will lead more operators to focus on American regionalism. With an increase in nutrition awareness, we can expect to see more double-sided menus, that is, menus providing something for everyone along the nutrition and economic continuums.
"Fresh" is the top-rated menu descriptor that interests Mintel respondents (89%), followed by "made from scratch" (71%) and "real" (67%). In recent years, the term "artisan" has garnered much attention, but seems to be falling out of favor, as it is now the least-favorite menu description with only 28% of people finding it of interest.
It seems like just yesterday "natural/organic" was the hot ticket, but "local" is quickly becoming a consumer favorite, as locally sourced products are becoming more popular at grocery stores and restaurants alike. According to recent Mintel research, the same is true in the fruit and vegetable industry, with more than half (52%) of consumers reporting that it's more important to buy local produce than organic options.
Data from Mintel's Global New Products Database (GNPD) supports this statement, as fruit products with a natural/organic claim have declined 58% between 2008 and 2011, while vegetable product launches with that claim have decreased by 77% during the same time period.
"Natural and organic produce items aren't completely passé, but local varieties are steadily gaining ground," says John N. Frank, category manager, CPG food and drink reports at Mintel. "Interestingly enough, senior citizens are even more likely to believe that buying local produce is more important than organic."
---
Photo: Vanderbilt University's second Farm to Fork dinner in September 2011 sold out within hours of being announced, and interspersed local farmers, food artisans and producers among students so that young adults can know better where their foods come from.