Seven Leading Restaurant Trends for 2012
30 November 2011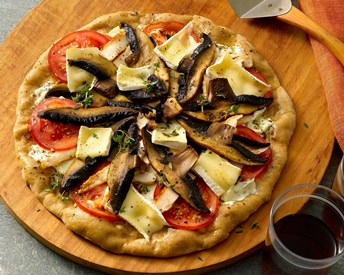 From social networking's impact on success to a greater emphasis on in-house rustic fare to save cost, Technomic predicts the biggest influences on U.S. restaurants next year.
Just as the nation's economic forecast includes mixed signals, restaurants across the United States face a varied landscape of expected trends in 2012. Technomic, the leading foodservice research and consulting firm, sees these seven developments making news in the coming year:
1. Consumers Seek a Twist on the Familiar. Shell-shocked consumers are in no mood to take risks, but novel flavors still tingle their taste buds. Look for comfort foods with a twist (gourmet, ethnic, artisan, wood-fired) as well as innovation in familiar formats (sandwiches, wraps, pizza, pasta) rather than breakout items taken from less-familiar global cuisines.
2. Commodities Costs Drive Rustic Fare Made in-House. Commodity costs are rising, labor costs hold steady and diners demand rustic fare, the simple preparations of fresh ingredients. Result: Operators will curtail purchases of value-added items in favor of cheaper cuts, beans, grains and produce that require more back-of-house prep to transform into honest, homestyle food.
3. The Next Steps in Local Sourcing. The rising use of seasonal and local items suits the less-is-more culinary trend. To facilitate flexible purchasing, growers, manufacturers, distributors and operators continue to work toward a more transparent, safe and efficient supply chain, streamlining workflow, recording every step and reducing waste.
4. Social Networking Influence Accelerates. Consumers increasingly trust friends and peers more than professional marketers. They're taking control of social media to share their restaurant experiences and opinions with the public (via review sites such as OpenTable), with their own circles (via Facebook and Foursquare) or both (via Twitter). This helps some restaurants rocket to popularity and leaves others quiet.
5. Customers Want More Information. Consumers want transparency—looking for disclosure of everything from calories and allergens on menus to labor and local-sourcing practices. A small but growing number are serious about nutrition, labeling, sustainability and community involvement, and they are using such knowledge to make purchasing decisions.
6. Operators Try to Resist Discounting. The foodservice industry will continue to operate in a take-share environment, but discounting is cutting to the bone. To counter daily deals and other forms of discounting, operators turn to creative, sometimes in-the-moment, methods to reward their best customers, such as a free dessert out of the blue.
7. Brands Expand through Flexible Formats: Format flexibility is required as restaurants cater to new around-the-clock dayparts, switch gears from fast-casual by day to full-service at night, or transform their kitchens into catering commissaries during slow times. This flexibility is also evidenced in streamlined, high-efficiency, smaller-footprint units and brand extensions.
---
Photo: The familiarity of favorite dishes like pizza can introduce patrons to less-common global ingredients and flavors. This Paris Pizza from Chef Peter Leonavicius of Toasted Pheasant Bistro in Tampa features Boursin and Brie cheeses with fresh tomato, portobello mushroom and lightly grilled chicken scaloppine, for an un-Italian, but nonetheless delicious, pizza. Courtesy of the Mushroom Council.