Pressing the Issue of Childhood Obesity
01 June 2011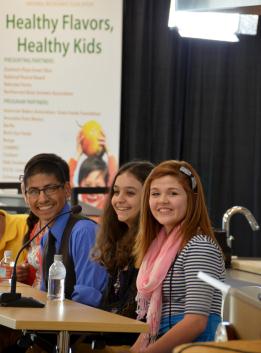 The Culinary Institute of America launches Healthy Flavors, Healthy Kids, a national culinary leadership initiative.

A White House chef and a USDA official were among the many children's nutrition, school foodservice and culinary leaders who presented at the CIA's Healthy Flavors, Healthy Kids National Leadership Summit at the college's San Antonio, Texas, campus May 11-13.

Healthy Flavors, Healthy Kids, an invitation-only event held in conjunction with the National Restaurant Association, brought together 200 diverse professionals from around the country, including Sam Kass, assistant White House chef and senior policy advisor for healthy food initiatives, and Dr. Janey Thornton, USDA Deputy Under Secretary for food, nutrition and consumer services. Attendees discussed and debated a wide range of issues impacting the quality and flavor of foods for children.
The event is the launch of a much larger initiative focused on improving the quality and flavor of foods and beverages made available to children in a variety of settings in the United States, including our nation's K-12 schools, colleges and universities, chain and other restaurant kids' menus, and the family food environment.

Childhood obesity—and other nutrition and lifestyle issues negatively impacting the health of America's youth—is one of the most pressing public-health challenges of our time, and the CIA decided to add to its body of health, wellness and culinary strategies initiatives with the creation of Healthy Flavors, Healthy Kids.
"The CIA has the capacity to use its wide reach and influence in the foodservice sector to move the critical issues of childhood obesity and school-lunch programs to a larger audience," says Dr. Tim Ryan, CMC, president of the CIA. "We already have many alumni such as Jorge Collazo in New York and Ann Cooper in Boulder making huge strides in these areas. By convening Healthy Flavors, Healthy Kids, we are creating a unique forum for professionals of differing opinions to work through these complicated and critical issues."

Invited attendees at the May 2011 Healthy Flavors, Healthy Kids National Leadership Summit included:
Members of the Healthy Flavors, Healthy Kids National Steering Committee, including CIA graduates Chef Ann Cooper (child-nutrition director for Boulder Valley Schools) and Chef Jorge Collazo (executive chef for New York City Schools)
Foodservice and culinary leaders from K-12 foodservice, college and university foodservice, chain restaurants with kids' menus, contract foodservice and fine-dining chefs participating in Chefs Move to Schools
Influencers and leaders from national initiatives designed to improve children's nutrition, including the American Dietetic Association, the National Farm-to-School Program, the Centers for Disease Control & Prevention and Share Our Strength
Influential leaders from San Antonio who are spearheading local initiatives related to children's nutrition
Culinary presentations included "The Global Palate: How Chefs and Parents Can Inspire Interest in Flavors from Around the World" by noted chef, TV host and author Rick Bayless and "World Flavors: Inspiration for Successful Salad Programs" with Rick Bayless and chefs and authors Joyce Goldstein and Suvir Suran. Other sessions covered topics such as "Increasing Kids' Fruit and Vegetable Consumption: How School Gardens, Classroom Nutrition Programs and Health Coaches Can Have an Impact"; "Promoting Hispanic Health & Preserving Culinary Traditions"; and "A Focus on Family Health: Helping Busy Families Eat Better." A particularly lively session called "My Food, My Family, My Future" featured local San Antonio middle- and high-school students in a panel discussion about food likes and dislikes, and what motivates them to choose more healthful foods at home, at school and in San Antonio restaurants.

Plans are already underway for the 2012 Healthy Flavors, Healthy Kids National Leadership Summit, which will be held at the CIA San Antonio May 9-11. For more information on Healthy Flavors, Healthy Kids, visit www.ciaprochef.com/healthykids