Lean, Organic, Natural and Grass Fed: a Cut Above
29 April 2011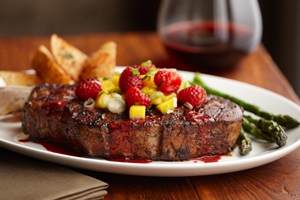 Premium and natural descriptors resonate with consumers of beef and pork menu items, finds Technomic.
Nearly two out of three consumers recently surveyed by Chicago-based trend-tracker Technomic say they think beef and pork products labeled or menued with premium descriptors such as "grass-fed," "lean," "organic" or "natural" will taste better than other beef and pork products that do not carry these same labels. Terms describing premium types and cuts of meat had a strong influence on perception of flavor and price thresholds, while terms describing natural farming and preparation were likely to influence consumers' perception of healthfulness.
"Consumers have gained familiarity in the retail sector with descriptions of beef and pork products denoting them as premium," says Technomic's executive vice president, Darren Tristano. "Now as they visit restaurants, they are carrying those experiences with them and seeking out quality cuts, breeds and preparation through descriptors on the menu."
To help food-industry professionals stay abreast of how the current issues and evolving consumer needs impact the beef and pork categories, Technomic developed the Center of the Plate: Beef & Pork Consumer Trend Report. Findings include:
Among consumers who do not eat meat regularly, health is the No. 1 deterrent. Interestingly, many consumers feel that lean and extra-lean cuts of meat actually taste better while also being healthier.
New menu trends on the horizon for beef and pork include Asian and Caribbean culinary influences, as well as upscale positioning for urban barbecue concepts.
Consumers crave more variety from the pork offerings at restaurants and indicate that they would order pork dishes more often if these needs were satisfied.
---
Photo: Bourbon Raspberry-Rub Rib-eye Steak with Raspberry Mango Salsa. Courtesy of Driscoll's Berries.