A "Baker's Dozen" of Winning Raisin Breads
31 October 2010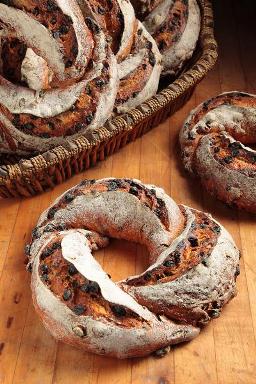 Educators and students were among the 38 finalists who rose to the occasion in the California Raisin Marketing Board's final bake-off.
The California Raisin Marketing Board, the state marketing order that represents nearly 3,000 California raisin growers, announced 13 winners in its third-annual America's Best Raisin Bread Contest held recently. The "bakers' dozen" winners rose to the top among a total of 85 initial entries submitted by professional and student bakers from throughout the country.
"This year's formulas exceeded our expectations by featuring diverse California raisin-inspired breads and bakery products—from savory Raisin Focaccia Bread with goat cheese and caramelized onions to sweet Raisin Pecan Caramel Rolls," said Larry Blagg, senior vice president of marketing for the board.
The mission of the America's Best Raisin Bread competition is to recognize and celebrate aspiring and working bakers for their skills. To allow the bakers more creativity and to broaden the range of products, this year's artisan and commercial baking categories were expanded to include raisin rolls, pastries and other breakfast breads.
From the full line-up of entrants pooled in a preliminary judging round in September, 38 finalists were chosen to advance to the second round and receive an all-expenses-paid trip to the prestigious American Institute of Baking (AIB) in Manhattan, Kan., October 14-16. At the AIB, they prepared their formulas for a panel of distinguished judges:
Artisan Category Judges
Ciril Hitz, department chair, International Baking & Pastry Institute at Johnson & Wales University
Dominique Homo, founder, baking consulting, L'École du Pain
Klaus Tenbergen, assistant professor/director, Culinology program, California State University Fresno
Commercial Category Judges
Theresa Cogswell, founder, BakerCogs, Inc.
David Guilfoyle, founder/owner, Half Baked Innovations, Inc
Debi Rogers, director, cereal chemistry, AIB International
Of the finalists, 13 winners emerged based on taste, appearance, originality and value of their final baked products.
Along with receiving industry-wide recognition, the winners receive a five-day California vacation with visits to The Culinary Institute of America, Yosemite National Park and the San Joaquin Valley—the home of the world-famous California Raisins.
Artisan Category Winners:
Grand Prize: Mitch Stamm, Johnson & Wales University, Courrone Aux Raisins
Judges Prize: Kevin Knight, Anjou Bakery, Deep Dark Delicious (a.k.a. D3)
Idea Prize: Ray McCue, Johnson & Wales University, California Raisin Focaccia with Goat Cheese & Caramelized Onions
Commercial Baking Category Winners:
Grand Prize: Shawn Kearns, Einstein Noah Restaurant Group, Split Top Buttermilk Raisin Bread
Judges Prize: Steve Barnhart, Highland Baking Company, Chocolate Gold
Idea Prize: Lin Carson, Wendy's New Bakery Co., Raisin "Stuffin" Mini Buns
Breakfast Category Winners:
Grand Prize: Angela Dodd, Cargill (Integrated Bakery Resources), Raisin Pecan Caramel Rolls
Judges Prize: Mike Dixon, Dawn Food Products, Golden Raisin Walnut Flip
Idea Prize: Mary Vande Walle, Uncle Mike's Bake Shoppe, Carmel Apple Stuffed French Toast
Student Category Winners:
Artisan Co-Grand Prize Winners: Chee Her, California State University Fresno, Pan De Pasas, and Oprah Davidson, The Ritz-Carlton/Johnson & Wales University, Caramelized Apples & Golden Raisin Ciabatta
Commercial Grand Prize: Kacy Charlesworth, Pennsylvania College of Technology, Thanksgiving Raisin Bread
Breakfast Grand Prize: Katrina Snelgrove, Pennsylvania College of Technology, Coconut Rum Raisin Bread
To qualify, each contestant submitted formulas currently available in the market or planned for sale in the future, along with color photos of their creation. Raisin breads, at minimum, needed to include 50% of raisin content to dry flour weight, while other raisin bakery products had to include a minimum of 25% raisins to dry flour weight. California raisins could be comprised of California natural sun-dried raisins, California golden raisins, California raisin paste and/or California raisin-juice concentrate.
The full list of the competition finalists is available online. For more information about the California Raisin Marketing Board and to browse delicious recipes, visit www.LoveYourRaisins.com.
Photo caption: Artisan grand-prize winner Mitch Stamm's Courrone Aux Raisins.