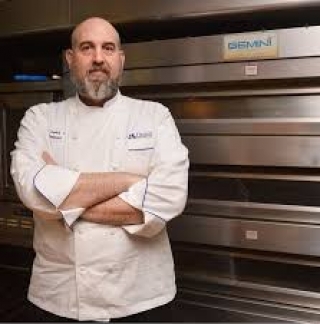 CAFÉ Talks Podcasts Posts Interviews with Culinary Educator and Flavorist
02 November 2020
Discover what it takes to become a flavorist and ideas about retooling culinary education post COVID-19.
By Lisa Parrish, GMC Editor
CAFÉ Talks podcasts continues the culinary conversation with the next two guests.
Click here for CAFÉ Talks episode seven: Dolf DeRovira – Name that Flavor
The next CAFÉ Talks podcast's features Dolf DeRovira, founder of Flavor Dynamics in Philadelphia, discussing what it takes to be a flavorist or someone who uses chemistry to engineer natural and artificial flavors for food manufactures.
According to DeRovira, a flavorist has memorized thousands of chemical tastes and smells, understands food layering components and is able to create a full, wholistic sensory evaluation of food. The apprenticeship-like training takes between five to seven years to complete.
DeRovira describes his work as painting with chemicals to create a flavor or rare product using extracts, naturally occurring products or any ingredient that falls on the FDA's Generally Recognized as Safe list.
"There is a difference between taste and flavor," he explained. Flavor is more robust than taste as it also includes the olfactory sense, texture, appearance, and sound of food. He also said that flavors are layered into foods with different intensities. "Taste a sauce. First, there's the burst of flavor, then in the middle there's the umami flavor and then in background you taste something else. It's a sequence of flavor," he said.
"The most popular flavors are the most complex," he explained. "For example, take cola. There is citrus, brown vanilla, carbonation, and it's colored with caramel. Or think about a hamburger: it's room temperature spongey bread, warm meat, cool and crispy lettuce, and the sauce (ketchup) has the flavor of tomato."
Creating flavors also requires a knowledge of the system that will use the flavor. "A flavor made for a beverage would not work in yogurt or candy," he said.
And, creating flavors may not be an exact science as people discern flavors differently. He gave the example of how people describe vanilla – sweet, creamy, vanilla, and burnt wood. He said that they are all correct and that people taste flavors differently. A flavorist must just accept the differences.
Click here for CAFÉ Talks episode eight – Dr. Jonathan Deutsch, Changing the World One Student at a Time.
Dr. Jonathan Deutsch, professor and director Drexel Food Lab at Drexel University in Philadelphia, discusses retooling culinary education to diverge from focusing on future restauranteurs to developing curriculums that graduate food professionals with a broad understanding of food systems.
In Dr. Deutsch's CAFÉ Talks podcast interview, he discusses how COVID-19 tested the foodservice system at various levels and found it broken and full of challenges. He began with culinary education's troubled system of mainly producing students ready for the restaurant industry, even though it is a limited field that recently shut down. The restaurant industry itself was difficult to manage with minimal profit margins and challenging labor issues. The food supply chain had become overly broad with people believing they could order anything from around the world and receive it quickly, which is only true if the entire process runs smoothly. If not, the waste created by the fragile food delivery system is staggering.
Dr. Deutsch believes reinventing culinary education to focus on a greater diversity of entrepreneurial options beyond restauranteur will produce graduates who have the necessary skills and flexibility to pivot in a crisis like COVID-19.
"For so long we have fetishized the idea of the fine dining chef as the ultimate pinnacle of culinary. I love fine dining but it's a very small percentage of where we get our calories. Put that in the mix of food delivery and it is one of many career paths for students. It is not the end all be all," he said.
He believes culinary education has what it takes to make these broad changes in hand – in the faculty. However, he recognizes the difficulty that lies therein with faculty learning new skills and being willing to change, which is a departure from their usual expert status. However, Dr. Deutsch suggests taking the time to create incremental change will address some of culinary education's problems.
He also discusses food distribution in relation to supply chain management, farm to table and sustainability. He said that it is imperative we understand where food comes from and how it gets here. "It is not just small is good, big is bad, local is good and global is bad," he said. Rather, it is about how we interact with the food chain and use it to our advantage.
Closely related to supply chain management are issues with stainability in both the education and professional foodservice industries. Food waste is an enormous problem as demonstrated by a United Nations study that showed nearly 1/3 of all food produced for human consumption is wasted. Dr. Deutsch illustrated another problem related to the recent COVID-19 induced food supply shortages. "About 75 percent of fresh seafood goes to restaurants. Without restaurants, those animals lose their lives for our nutrition. It's not a widget that can sit on a shelf," he said.
Dr. Deutsch has discovered through research conducted at Drexel's Food Lab that with proper communication, consumers will pay more for upcycled food items or value-added products created from food waste. However, the production process should be transparent and messages around the item's top nutrition, good taste, and positive environmental impact should be front and center.
Sustainability should be built throughout the culinary curriculum suggested Dr. Deutsch, beyond teaching a unit or class on the subject. He suggested overhauling instruction in light of using food waste. For instance, taking vegetables from knife skills classes and pureeing them in the hot foods class. "It is communication, oversite and time and schools are not willing to invest to have these conversations," he said.
Dr. Deutsch sees some shrink in the competitive culinary education market in five years. He predicts an innovative work and learn solution involving apprenticeships and creativity. He said, "I can see students doing two long days of class (Monday and Tuesday) and supplementing with online work. They would have a job Wednesday through Saturday to pay their tuition. They would come out with stronger skills and knowledge than traditional culinary school graduates and have minimal debt. This change is long overdue and it's time to close or reinvent culinary schools."
Click here to subscribe and listen to all available CAFÉ Talks podcasts episodes.
Moderated by Gold Medal Classroom Think Tank's Paul Sorgule, CAFÉ Talks podcast episodes are less than 50 minutes with three distinct sections: an interview with a dynamic expert such as chef, restauranteur, product developer, freethinker or educator; thoughtful culinary commentary by Sorgule; and a taste of inspiration from Dwight Edward.
CAFÉ Talks podcast posts a new, free episode every other week. Listeners can utilize the information as discussion points in the classroom, as professional development for culinary educators, as strategizing sessions for program directors, or just interesting and fun information for the culinarian.
Click here to read previously posted Gold Medal Classroom stories focusing on CAFÉ Talks podcast episodes.