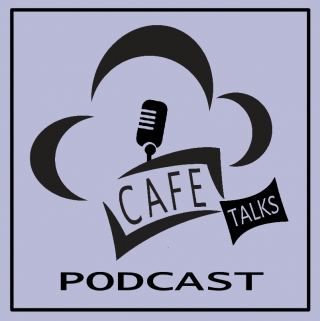 Have You Heard CAFÉ Talks?
10 August 2020
New CAFÉ Talks podcast educates, enlightens, entertains and rewards listeners with the best of the culinary industry.
By Lisa Parrish, GMC Editor
So, can chefs multitask? Do onions make you cry? Yes! Accomplishing more than one task at a time in a busy kitchen is a must. For many, doing things simultaneously has become a life skill. And, listening to audio and, say driving, are two things that fit together in this fast-past world. Podcast popularity has taken off as busy people want to bite into interesting, thought-provoking audio topics. CAFÉ Talks helps with that.
Moderated by Gold Medal Classroom Think Tank's Paul Sorgule, CAFÉ Talks episodes are less than 50 minutes with three distinct sections: an interview with a dynamic expert such as chef, restauranteur, product developer, freethinker or educator; thoughtful culinary commentary by Sorgule; and a taste of inspiration from Dwight Edward.
CAFÉ Talks posts a new, free episode every other week. Listeners can utilize the information as discussion points in the classroom, as professional development for culinary educators, as strategizing sessions for program directors, or just interesting and fun information for the culinarian.
Click here to listen to CAFÉ's own private radio show. Four shows have been posted during June and July. Here is a brief description of each:
CAFÉ Talks Episode One: CAFÉ President Mary Petersen, How it Began
Petersen dives into thoughts about how culinary education can strategically partner with the foodservice industry, during COVID-19 and beyond.
In the past, culinary education programs served as a labor supply chain for the foodservice industry. Petersen now sees education programs poised to help bring the restaurant industry back online with training opportunities such as offering short programs or courses in new technology, sanitation updates or problem-solving skills. She discusses how culinary training has gone from workplace apprenticeships to education taking the training mantel to a future of partnerships in the areas of apprenticeships, externships, degrees, certificates and certifications. She said that culinary education's biggest challenges will be if it's nimble enough to seize these opportunities.
CAFÉ Talks Episode Two: Cajun and Creole Ambassador John Folse, You Are What You Cook
Raised in Louisiana's bayou with the Mississippi at his front door and the area's swamplands out back, John Folse grew up proud of his humble Cajun beginnings which have carried him throughout his long and varied culinary career.
Folse often refers to how history and culture mean more to cooking than putting the fire under the pot. He believes great chefs should have passion and a love of serving people coupled with an in-depth knowledge of history and the customs of people who made that cuisine happen. That, in his opinion, is authentic cooking.
Ever the optimist, Folse believes the culinary scene will come out of the COVID-19 pandemic stronger and better than before. He cites many historical events where people thought it was the end only to find themselves stronger and having a better sense of community than before. Although, he admits coming out the other side will be a tough ride with much loss along the way. His faith in people is infallible and his pep talk is inspiring.
Folse's future plans include expanding his Baton Rouge White Oak Estate farm to include a culinary component where interested culinarians can come walk the grounds and see the ponds, distillery, smokehouse, lakes and dirty their hands in the Louisiana soil. Why? Because he wants people to understand Cajun culture to cook the best Creole dishes possible.
CAFÉ Talks Episode Three: Drew Nieporent, The Era of the Restauranteur
From an early age of tagging along with his dad visiting emerging immigrant restaurants and eateries and granting their liquor licenses, Drew Nieporent knew he wanted to be in the food business and New York City was the place to do it. And that's just what he did. After more than 30 years in the business and 40 award-winning restaurants worldwide, Nieporent has seen the frenetic rise and fall of the restaurant industry.
He discussed how restaurants of the past cooked from a "cooking dictionary where most of the dishes were the same." He believes his generation of chefs became innovators and pioneers of their own cuisine and found ways to differentiate themselves from other chefs. As culinary education graduates entered the workforce, it proved to be fantastic for the foodservice scene.
His advice to culinary students: learn precision and if you do it then do it well. Nieporent has witnessed much through his long culinary career and said that even though the idea of restauranteur is a dinosaur there is still no greater achievement in the restaurant industry.
CAFÉ Talks Episode Four: Jack Uldrich, Planning for Tomorrow
Author, futurist and keynote speaker Jack Uldrich sat down at the CAFÉ Talks microphone to discuss thinking differently by unlearning what you know and adapting to change.
How does one unlearn old and obsolete habits, ideas, assumptions and beliefs? First, you understand change is the law of the universe and that today is the slowest pace of change in your lifetime. Therefore, change is inevitable and contemplating change to become more comfortable with it is the way to unlearn things from the past.
Uldrich provided these tips to think differently and become comfortable with change:
Give yourself permission and time to think
Give up on answers and stick with questions by asking better questions
Always question what you think you know. Ask yourself "why?" five times to gain insight into why you think the way you do.
His vision of culinary education's future was audacious and different, filled with technology advances, a completely different business model and a move to an education system that is revisited time and time again over the student's life.
He advises culinary leaders to take time to think and if you think your idea sounds plausible than someone else is probably working on it now. Uldrich suggests going deeper and creating possibilities that sound a little crazy and push you further out of your comfort zone into an uncomfortable space. He suggested looking for disruptors who are changing the industry to find inspiration to think big, bold audacious thoughts. Also, don't be afraid of strategic experimentation to try more things as it will ultimately make you better. Finally, Uldrich counseled leaders to prepare for the unpredictable, the next pandemic and beyond, by creating at least three survival plans.
CAFÉ Talks is free and sponsored by American Technical Publishers. Listeners can find CAFÉ Talks on all platforms where podcasts are usually found.