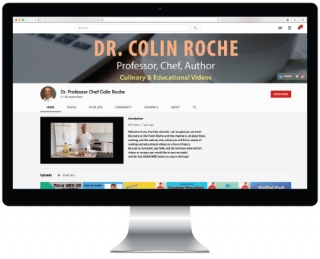 Video for Classroom Use and Help Learning Tricks and Turns of Online Instruction
26 March 2020
Discover a list of online resources from cooking demonstrations to how to effectively use Skype's screen sharing feature.
By Lisa Parrish, GMC Editor
Adding video components to your online class piques students' interest, can set an appropriate class tone and provide additional information beyond a lecture. There also are many videos designed to help you become a more effective online instructor. Where does an instructor find all these video resources? Well, online of course!
Read on to discover internet resources that help your lesson plans and your teaching skills.
Dr. Colin Roche, Johnson & Wales University North Miami Campus professor, created a YouTube Channel, Dr. Professor Chef Colin Roche, dedicated to creating culinary education videos geared toward anyone with an interest in the field. He has organized his more than 70 videos into seven playlists covering topics from travel to cooking demonstrations. Last year, he also began a podcast, DrChefProfessor, highlighting practical and effective teaching tips. Below, you will find a few examples of videos and podcasts Dr. Roche posted:
Dr. Roche's Kitchen Classroom Instructional Videos:
Playlist Knives and Knife Cuts – one of seven playlists
How to julienne and batonette
How to slice and dice an onion
How to flute a mushroom
How to tourne vegetables
And many more videos to choose
Wicked Easy Cooking
Note: This playlist was created to take what some consider complicated recipes with intimidating ingredients and make them approachable or wicked easy. The word wicked is attributed to his New England upbringing.
Baking examples:
Homemade buttermilk biscuits
Oatmeal lace cookies
Churros with chocolate dipping sauce
Accompaniments examples:
How to make homemade guacamole
How to make pesto
Soup/Entrees examples:
Split pea soup with ham
Cream of broccoli
Super easy baked salsa chicken
Shrimp scampi (also shows how to peel and devein shrimp)
Dr. Roche's Culinary Classroom Instructional Videos:
Dr. Roche's Culinary Instructor Teaching Podcast:
DrChefEducator
Note: This resource is designed for culinary, baking & pastry, and hospitality teachers and instructors and is a way to share practical and effective teaching tools, tips and techniques used in the classroom and/or lab setting. Episodes include:
Instruction continuity
The lecture
The first-year teacher
The first day of class
Effective lesson planning
Constructing the syllabus
Designing a course
Dr. Fred Mayo, Gold Medal Classroom's Mayo's Clinic author, has shared several video resources for teachers about how to become effective online instructors. They are: