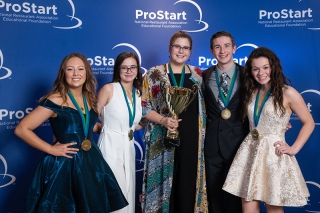 Texas ProStart National Invitational Winners Wow Judges with Perfect Dishes
03 June 2019
A team from the Dr. Gene Burton College & Career Academy served sesame crusted ahi tuna with wasabi and hibiscus sauces, a Texas-style surf and turf, and white chocolate chai mousse in the sculpted shape of an apple.
By Thomas Smith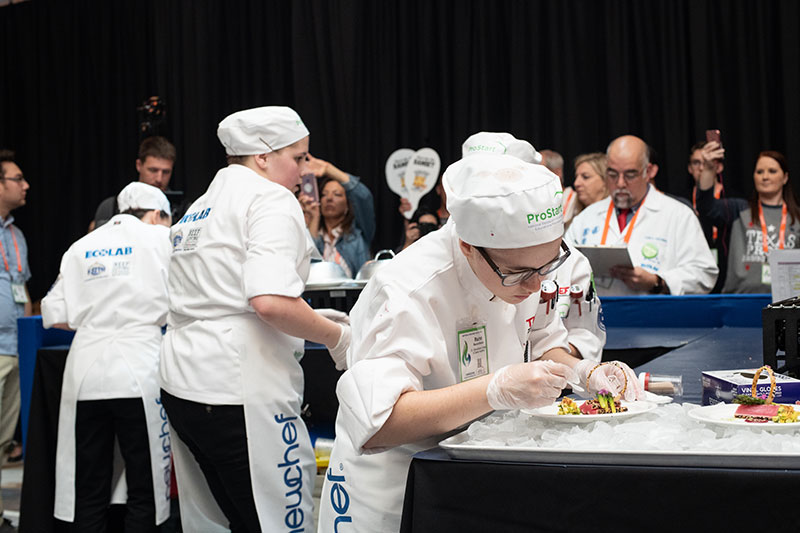 The mouthwatering scent of savory protein fills the room, as high school students cook food with such efficiency they appear to be dancing. A girl spoon feeds a taste test to a teammate who continue to grate cheese and stir a soup, while another student announces the remaining time. Meanwhile, cheers rise and fall from onlookers just outside the kitchen space as white-clad coaches observe their mentees with silent composure. As one team finishes plating their final course, the crowd around them erupts into applause.
At the National ProStart Invitational culinary competition, the excitement is palpable and the stakes are high. The 2019 event held in May in Washington, D.C., saw teams of four students and one student manager prepare the best three-course meal they can in under one hour. This year, students from the Dr. Gene Burton College & Career Academy in Rockwall, Texas, won first place and took home the grand prize of $200,000 in scholarships.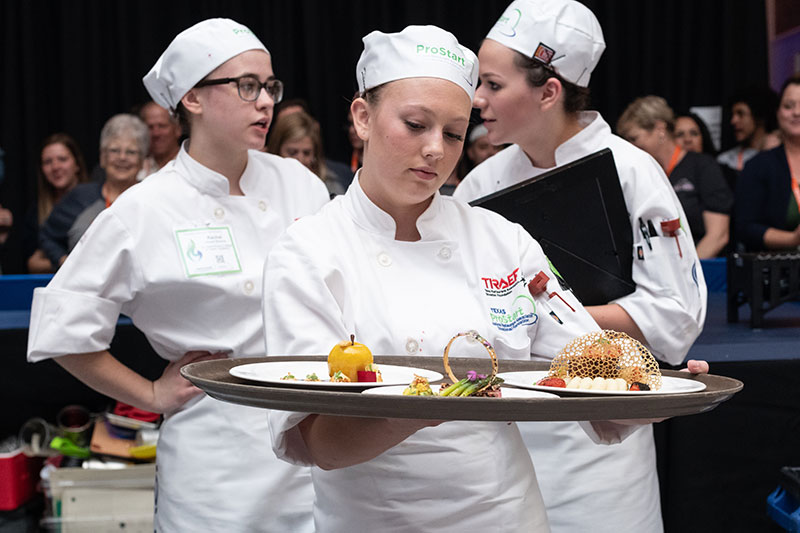 "I don't even think I can describe in words how much ProStart means to me," said Rachel Bristow, a student chef on the Texas team. "It has given me the opportunity to rise up from my past and become something I honestly never would've thought I would become. I always knew I had a passion for culinary arts and when I had the chance to be a part of ProStart, I took it"
ProStart Director Amy Saltzman said the culinary competition feels a lot like the TV show "Chopped." Teams are limited to two butane burners and have no access to electricity or running water, although they do have an extra hour and a half of mise en place time. To qualify for the National Restaurant Association Educational Foundation's national event, teams must first win at the state and regional level.
"They have to come to us with a student-lead menu, so it's not the educators who are telling these students what to cook," Saltzman said, "These menus are created by the teams of students."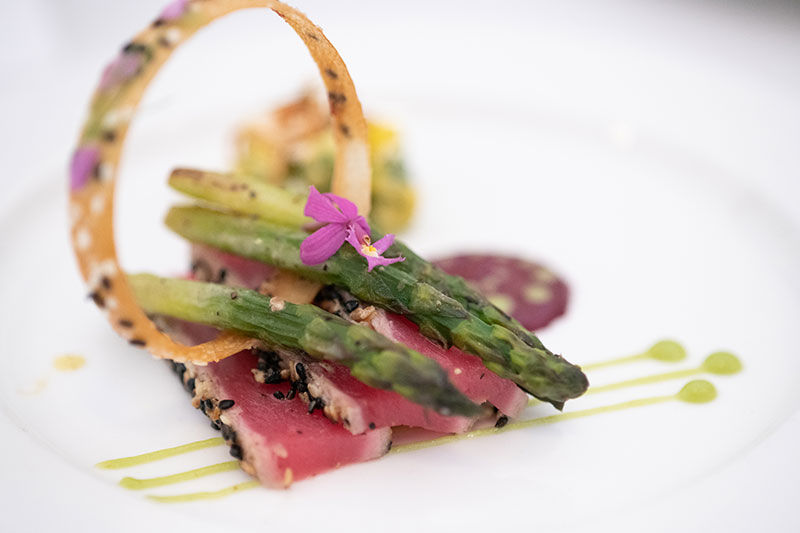 For an appetizer, the Texas team presented sesame crusted ahi tuna with made-from-scratch wasabi and hibiscus sauces, featuring a mango, fennel and avocado salad. Bristow said she was responsible for the appetizer, and every component of the dish was refined by trial and error. Although the judges at the state competition were not impressed by the hibiscus sauce, the National Invitational judges loved it and said the dish was perfect.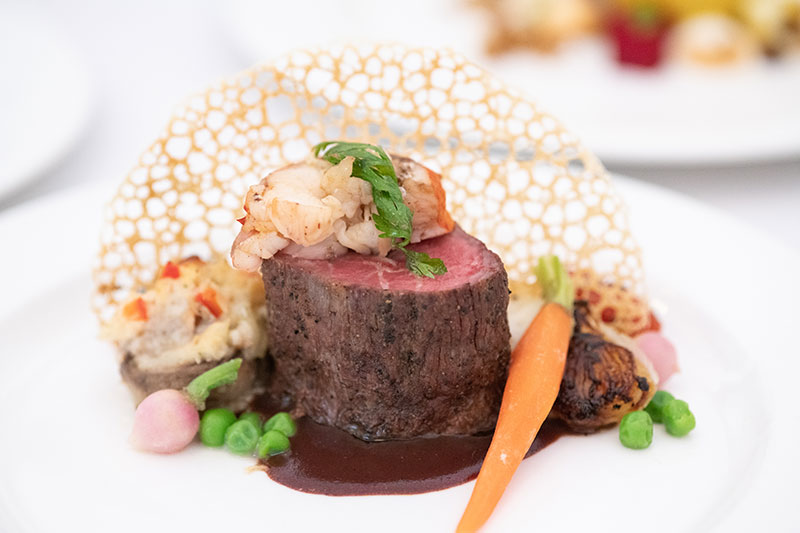 The entrée, a Texas-style surf and turf, was crafted by teammates Preslie Mann and Ramsey Anderson. This dish features pan-seared lobster and Texas beef tenderloin in a red wine reduction sauce with butter-glazed vegetables and cauliflower mashed potatoes on the side. Anderson said this dish came out beautifully.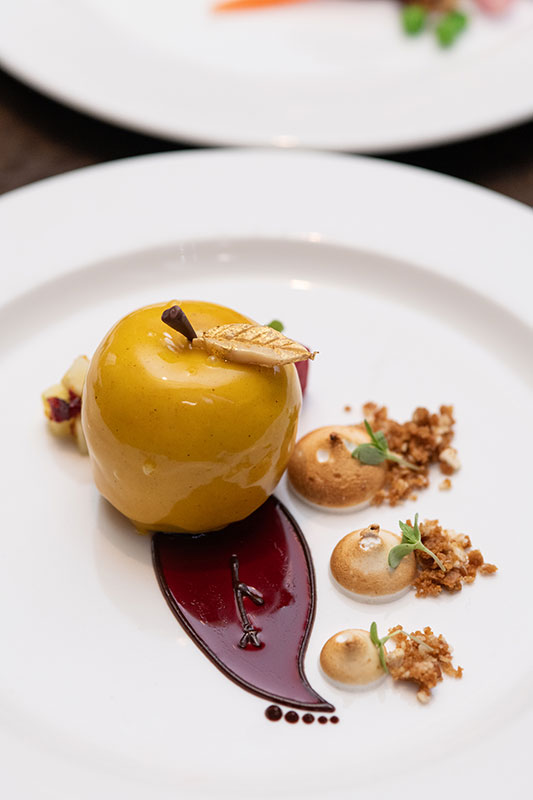 For dessert, the Texas competitors wowed judges with a white chocolate chai mousse. Competitor Madeline Demien said she prepared the dessert by molding the mousse into the shape of an apple with a white chocolate shell with a turmeric mirror glaze. The dessert included a gold-covered, cranberry-pomegranate-sauce-filled chocolate lead by the sculpted apple's stem to make it look realistic. It was served with hand-whipped ginger meringue toasted golden brown and an apple-cranberry compote with poached apple.
"When something didn't work, we took it out and replaced it with what would," said the team's student manager, Layton Ray, "and when we found something that did work, we elevated it to the highest level that we could."
A team's manager is a student who is responsible for tracking time and may serve as an alternate if needed. Ray said the team was so well-practiced they could prepare their meal blindfolded.
The judges loved all parts of the meal and had no negative feedback. Chef Instructor Cody Hayes, who coached the team, said it was affirming to hear such positive responses. One judge even offered to employ the students.
"They learned from their mistakes, made adjustments, were coachable, never gave up, and never lost sight of their end goal," the coach said, "and that alone is worthy of praise. These young people are truly special, and I am so thankful for their commitment and drive."
Preparing for the competition took tremendous effort, Hayes said. For seven months, the team practiced six days a week. The team practiced at least five hours every Saturday and stayed at school until approximately 8:30 to prepare.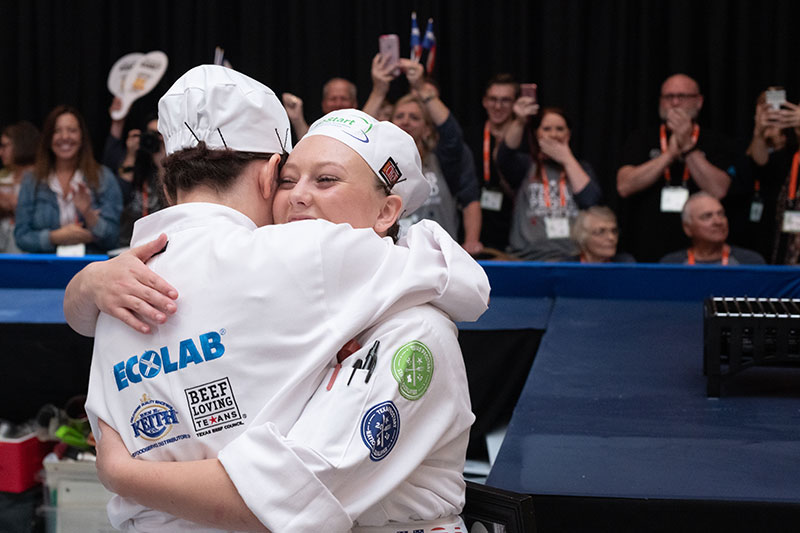 "After all the late nights and stress, it feels so good to get the recognition we all deserve," Bristow said. "I couldn't have asked for a better team to go through all this with. I also couldn't have asked for a better instructor. Chef Hayes has been my father figure through all of this, and he's taught me so much."
In addition to substantial scholarship funding, teams also compete for bragging rights. As the only senior on the team, Mann said she plans to attend Sullivan University before completing her bachelor's degree at Johnson and Wales University in Denver. Then, she hopes to open her own café in Texas and eventually become the first female master chef.
As for the rest of the team, they will have a chance to repeat the magic at next year's competition.