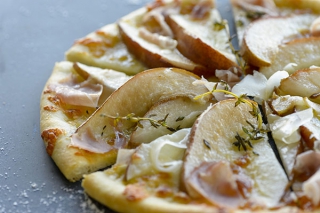 Teaching Culinary Students About the Versatility of Fresh Pears
14 August 2018
Fresh pears are finding their way into applications throughout all day parts from pear and gorgonzola ice cream to salads and cocktails.
By Kathy Stephenson, Marketing Communications Director, Pear Bureau Northwest and Chef Instructor Peter Tobin, Inland Northwest Culinary Academy at Spokane Community College
Sweet, juicy, and mellow, fresh pears have been a highly prized fruit for centuries and at one time hailed as a "gift of the gods" per Greek poet laureate Homer. Thanks to their versatility and long storage life, pears were not only valued, but a desired commodity among the ancient trading routes, and those qualities are still admired today.
This fruit lends itself to nearly any culinary application imaginable, from classic salads to grilled sandwiches, velvety soups to cocktails. All 10 varieties of USA Pears, from Anjou to Starkrimson, have their own size, texture, color and flavor, which can be complex or subtle. Flavor profiles of pear varieties often resemble descriptions of wine: crisp, full-bodied, floral, complex, or vanilla, making them a perfect fit for creative menu applications across all day parts. A 2018 study from Datassential revealed over the last 10 years, pears have experienced steady growth. Pear incidence on restaurant menus is rising and are most often found in salads and cocktails as well as unexpected dishes like pizza, pasta and hot sandwiches*.
The study also showed common salad ingredients like cheese, apples and vinaigrettes are featured most often alongside pears on menus. The fastest growing pear accompaniments include a range of unique proteins and vegetables like quinoa, kale, brussel sprouts and eggplant*. With 10 pear varieties and a multitude of ingredients that are complementary, the menu combinations and creative uses are endless.
Click here to view a chart featuring 10 pear varieties including color, texture and flavor attributes.
Teaching Fresh Pears in the Culinary Classroom
Chef Instructor Peter Tobin from Inland Northwest Culinary Academy at Spokane Community College has many ways he teaches students how to use versatile ingredients like pears in multiple menu applications: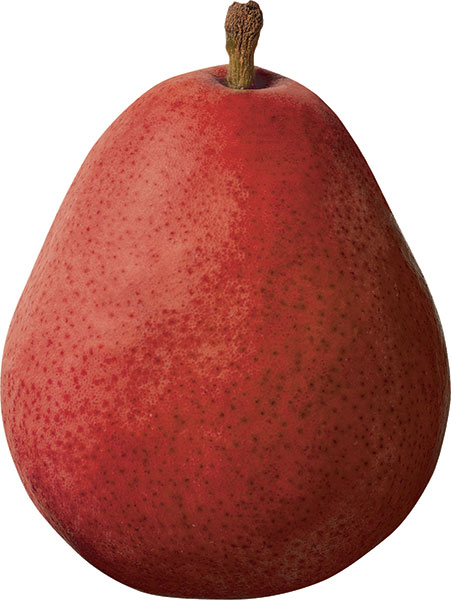 "Since flavor and texture vary by variety of pear, I use those as teaching tools in various ways. Tasting of the varieties is a great place to start students off. That way, they're not only seeing the green, yellow, red and brown colors, but tasting the flavor and texture differences in the pears. Seckel pears, more than likely, are my favorite variety. Its small size allows me to present it to students whole as a poached pear in dessert, creating a dramatic plate presentation. The firmer texture of a Bosc pear allows the fruit to hold up well in cooking, especially with high heat. My favorite dinner recipe I share with my students is Chilled Pear and Ginger Soup using a Bartlett pear. They are usually the first variety harvested and the fruit tends to be softer than the Bosc, making it a perfect pear to puree for soup. Although pear availability is year round, the harvest season of fall and early winter is where I teach the use of fresh pears.
There are many ways to expose pears to students. I challenge my students to consider savory applications as opposed to the well known salads, cheese boards or desserts that pears are frequently used for. I also want students to think about menus and how ingredients can cross over in all day parts. There's so much you can do with a pear. Take a charcuterie board. Just like cheeses themselves, the texture of different pear varieties work on so many different levels. When I place a crisp Bosc pear slice on a cheese board the harder texture works well next to a creamy blue vein cheese. Where as the softer, sweeter Bartlett pear is a great complement with a hard aged cheese, creating a nice balance of flavor and mouth feel.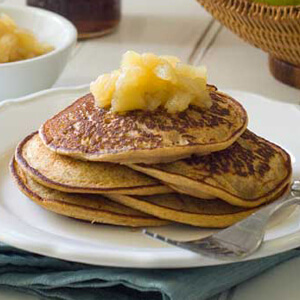 For pear breakfast ideas, personally I enjoy a simple European style breakfast of cheese, meats and of course fruit, pears being one of them. Fresh cut pears, a pear chutney, or a pear sauce can be used as a crepe, waffle or pancake topping. Pastries are often found on breakfast menus, and this is where pears have really shined. Something like a pear tart can be used for breakfast or a dessert.
Students can have a lot of fun with frozen desserts and we create a Pear and Champagne sorbet in the classroom that is delightful. If you really want to challenge students with unique applications and flavor combinations, a Pear and Gorgonzola Ice Cream is pretty far out there and the way these ingredients marry create a smooth sweet-savory flavor combination. As I mentioned earlier, my favorite recipe is a Pear Ginger Chilled soup- a use for pears that many people don't think about.
Students can never get enough practice with knife skills and when we're working with beverages, they can practice knife skills on pears by creating garnishes. In addition to a pretty pear slice garnish, pears add flavor and nutrition value in cold or hot beverages. When students are learning about nutrition, pears are a great source of fiber, so when you incorporate them in beverages like smoothies, they add sweetness to balance green leafy vegetables. But, overall they're adding nutritional value to whatever you menu you them with."
Click here to watch a video on pear cutting techniques.
Fresh pears are available nearly year round and along with 10 varieties of USA Pears all with unique flavor, color and texture, there are a million combinations and ways for culinary educators to utilize this versatile fruit across all menu segments.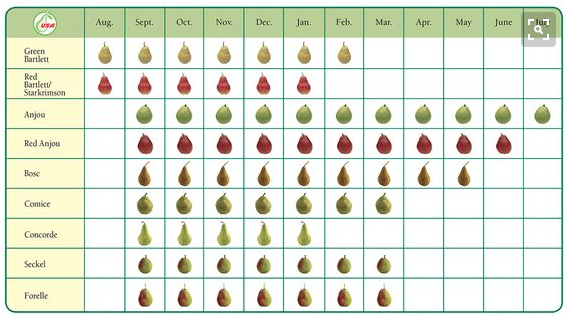 To learn more about pears, varieties, growing regions, menuing, storage and conditioning and earn 1 CEH from the American Culinary Federation (ACF) go to our online training at USA Pears.
Visit https://foodservice.usapears.org for recipes and menu ideas.
*2018 Datassentials Menu Trends Pear Study, Pear Bureau Northwest/USA Pears