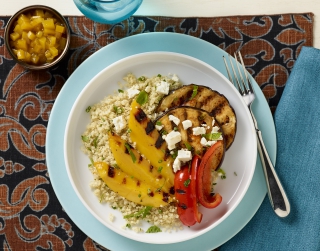 Building Flavors with Healthy Whole Grains and Versatile Fruit
Whole grains, watermelon and mango create dishes that are healthy and beautifully layered flavor bombs.
By Lisa Parrish, GMC Editor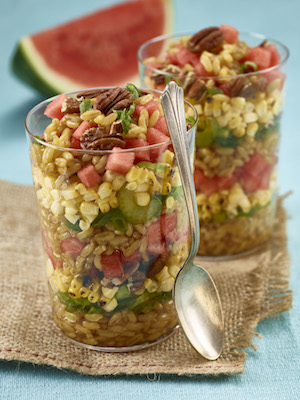 Chefs use flavors like kids use blocks to build towers; they start with a solid base and layer flavor after flavor. Similar to toddler construction, the sturdy base a chef requires should be substantial yet not overpowering in taste. And, sometimes the most-sturdy bases come in really small pieces, similar to the size of a tiny teff grain.
Whole grains are grains that have three parts – the bran, germ, and endosperm – in the same natural state in which the grain was grown. Examples include amaranth, barley, oats, quinoa, wheat and wild rice, just to name a few. Many of these grains have a nutty flavor and sturdy textures, which make a great foundation that holds up to strong flavors, according to chef Dave Woolley, owner of culinary consulting firm CD Culinary Approach.
"Whole grains are easy to cook, quick and beautiful tasting," chef Woolley said. "They add balance to cooking and building layers of flavor when you're trying to hit four out of the five flavor points."
The Colorado chef was introduced to the great taste of whole grains in 1998 when he owned a restaurant in Salida, Colo. A local farmer brought him quinoa and, "He opened my eyes to how great this grain tasted. I served quinoa before the current trend because of its flavor. And, by the way, it turns out it's one of the best foods to consume. It's like a tiny vitamin packed with nutrients that your body easily digests."
According to the Whole Grains Council, wholes grains are nutritionally dense and linked to major health benefits such as: lowering the risk of cancer, heart disease, respiratory disease, and diabetes; improving blood pressure; and they can have a positive effect on longevity.
"Whole grains have a great texture to add to soups and broth or they can fortify such as using them instead of bread crumbs in crab cakes. I really like their flavor as well as their texture, which can be symbiotic with other strong flavors," said chef Woolley.
One flavor combination he uses with whole grain applications is sweet and sour. "I love the versatility and beauty of fruits. Whole grains stand up well with strong fruit flavors," he said. "I have pickled watermelon rind with vinegar and then added them to quinoa. The flavors paired well."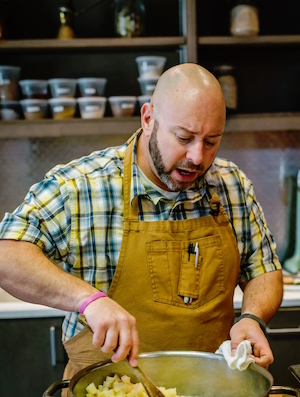 Fruits also add color to the benign beige palate of whole grains. According to Dash Burst, a small business trends publisher, the color red encourages appetite and is associated with excitement. "We have eyeballs and they work. Chefs need to make food look visually appealing. And, the red of watermelon or mango is vibrant to the eye," said chef Woolley.
Mango is also inherently sweet and sour. "One way I use mangos with whole grains is to char grill the mango. Then you have smoky, sweet/sour and nutty flavors going on. You add some spice elements to the dish you have built a flavor bomb," chef Woolley explained.
Other fruit and whole grain applications involve cooking down the fruit to concentrate the flavor into a sauce and then adding the sauce to a creamy whole grain dish. Or, make a mango and watermelon relish on top of an overnight oatmeal for a healthy breakfast option.
Flax in another whole grain that pairs well with fruit, especially watermelon. Chef Woolley suggests, "I like to blend corn, beans and greens with a watermelon juice vinaigrette. This makes a great flavor combination. To make it really pop, I top it with pickled watermelon rind. Sprinkle on some ground flax and you are in for a real flavor treat that's good and good for you."
He continues, "I love that fruits are super versatile. You add that versatility with whole grain flavor and you are on to something that tastes great and is super healthy."