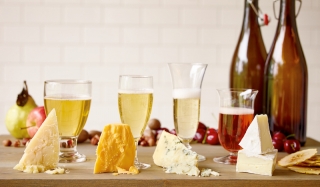 Lesson Plan: Pairing Guidelines for Cheese, Beverages and Accompaniments
27 January 2016
A successful pairing should help enhance the flavor and texture of both the cheese and accompaniment. Let your creative and culinary senses guide you as you keep these general strategies in mind.
Courtesy of Wisconsin Milk Marketing Board
From nutty parmesan to smooth and creamy gouda, Wisconsin's more than 600 varieties, types and styles of cheese provide endless pairing options.
Beverage Pairings
Wine is often a popular pairing choice, but beer, cider and cocktails pair equally as well with a variety of cheeses.
Serving Tip: Take the guess work out of beverage pairings by offering pre-selected half-ounce pours of three beverages already paired with three cheeses. Encourage guests to sample the cheese first, then the beverage and then back to the cheese.
Cheese & Wine – Strive for balance based on complementary or contrasting flavor combinations. White wines, such as Riesling, are less acidic and fruitier, making them easier to pair with cheese. Serve red wines, such as Pinot Noir, with more full-flavored cheeses. Pair strong, salty cheeses, such as a Wisconsin blue, with dessert wines such as port. The bubbles and light flavor of champagne pair well with creamy cheeses such as Wisconsin brie or mascarpone.
Cheese & Beer – Beer pairings should complement the cheese's age and flavor profile. Pair mild cheeses with a lighter beer and strongly flavored beer with an assertive cheese. For example, the subtle grain flavor of a Pilsner complements the smooth creaminess of havarti. Matching common flavors in the beer and cheese also works well. The butterscotch notes in an aged gouda pair well with the caramel flavors in stout.
Cheese & Spirits – Pairing cheese with spirits offers customers a satisfying after-dinner course. Play up the smokiness of scotch by matching it with an aged Wisconsin cheddar, or team up a smooth brandy with a buttery gouda.
Cheese & Cider - Cheese and cider are a pairing powerhouse: the gentle astringency, light alcohol and carbonation of hard cider brings levity to the richness of cheese. Ciders' body and fruit play in pleasing contrast to the savory and salty qualities of cheese, rounding out and highlighting the best features of each. Semi soft, creamy and young Wisconsin colby or cheddar cheeses compliment light, dry, vigorously carbonated, tart apple ciders, while brick, muenster, washed rind and mixed milk cheeses balance well with dry, sherry-like (Spanish or Basque-style) ciders with higher acidity and lower carbonation.
Accompaniments
Once you've finalized the beverages, add flavor and dimension to the pairing with carefully selected accompaniments. Popular choices such as fruit and nut breads, baguettes, and fresh and dried fruits and nuts add color and interesting texture to the cheese, as well as help set apart the different cheese flavors. For example, pair a Chardonnay and soft-rind cheeses, such as Wisconsin brie, with pickled white asparagus, or a scotch and hard cheeses, such as a Wisconsin parmesan, with honey preserved almonds.
Common accompaniments include:
                  Breads ─ Pair rustic artisan breads, crusty baguette, whole-grain breads and dense fruit or nut breads. More flavorful, multigrain breads and crackers pair well with more robust cheeses, while mild-tasting white breads pair well with more delicate cheeses.
                  Fruit ─ Low-acid fruits such as pears are easiest to pair with cheese. Avoid overly fragrant fruits and juicy or sugary fruits such as peaches and nectarines. Common pairings include parmesan and pears, cheddar with apples and blue cheese and figs. Cooked fruit compotes are an excellent choice, as well as dried fruit such as figs and apricots.
                  Vegetables ─ Vegetables can help highlight interesting flavor and texture contrasts such as hard/soft, sweet/salty and crunchy/smooth. The nutty, crunchy flavor and texture of fresh vegetables complements a variety of cheeses; try fennel, celery, green beans and radishes. Pickled and marinated vegetables also are excellent choices, but can overwhelm mild cheeses.
                  Nuts ─ The fat and oil in nuts, as well as their flavors, pair well with many cheeses. Serve nuts in the shell, shelled or roasted. Nuts pair particularly well with hard cheeses, try toasted walnuts with aged cheddar, parmesan or blue.
Use these simple guidelines when experimenting with accompaniment pairings:
Acidic, dry, salty cheeses such as parmesan pair well with sweeter accompaniments
Pair similar flavored cheeses and foods ─ try strong cheese with assertive accompaniments and subtle cheese with mild accompaniments
Swiss and many other nutty flavored cheeses pair well with nuts and raw fruits and vegetables
Contrast cheese and accompaniment textures; serve a smooth, soft brie cheese with crisp baguette or chewy Medjool dates with a crumbly aged alpine-style cheese
 For more information, view the Wisconsin Milk Marketing Board's Simply Sensational guide which covers all aspects of pairing, plating and serving Wisconsin cheese. 
---
PHOTO: Photo courtesy of Wisconsin Milk Marketing Board