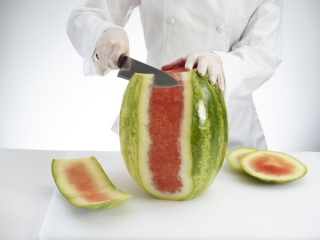 Lesson Plan: Discover the Best Methods to Cut, Store Watermelon
27 April 2016
Teach students how to quickly and efficiently cut watermelon, a summer staple and nutritious power house.
By The National Watermelon Promotion Board
Did you know that more than 20 pounds of food per person is wasted each month in the US? Not only is waste a problem at the national level, but in culinary teaching kitchens across the country, institutions find waste to be an enormously costly problem.
When instructing students on using watermelons in dishes from beverages to salads, use this studied and proven efficient cutting method: 
Step 1:
Cut off the ends, providing a base and access to the peel and rind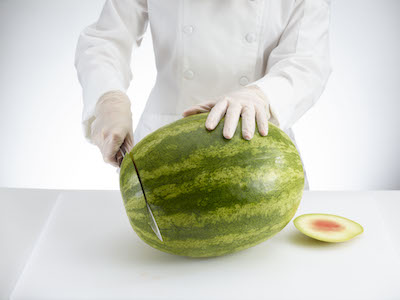 Step 2:
Angle the knife, place it where the white rind meets the red flesh and following the curve of the fruit, cut the rind off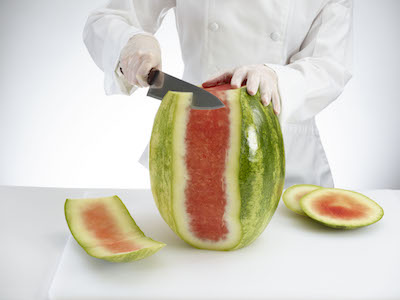 Step 3:
Cut the whole watermelon into disks, width ways in the desired size of cubes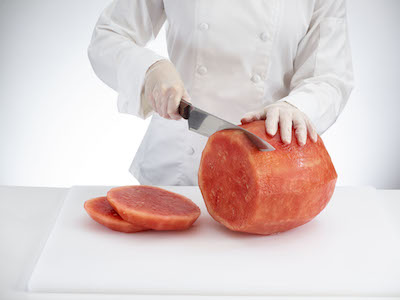 Step 4:
Lay the disks face down, pushing the smaller disks to one side and cut same size strips in both directions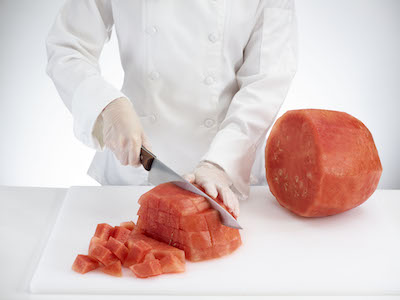 Watermelon Nutrition FactsStorage and Shelf Life of Whole and Cut Watermelon
Store the whole watermelon between 50-59°F, with 55°F the ideal temperature. If watermelons are received refrigerated do not break the cold chain and store them in refrigeration. Watermelon will keep for 7-10 days at room temperature. After two days at 32°F, watermelons develop an off-flavor, become pitted and lose color. Freezing causes rind to break down and produces a mealy, mushy texture. Once a melon is cut, it should be wrapped and stored at 36°- 9°F.
Watermelon, the produce leader in lycopene, is a multivitamin unto itself, with each serving providing an excellent source of Vitamins A and C and a good source of Vitamin B6 with only 80 calories.
---
About the National Watermelon Promotion Board
The National Watermelon Promotion Board (NWPB), based in Winter Springs, Florida, was established in 1989 as an agricultural promotion group to promote watermelon in the United States and in various markets abroad. Watermelon consumption per capita in the United States was an estimated 13.5 pounds in 2014. Watermelon volume in the United States was approximately 4.3 billion pounds in 2014. For additional information, visit www.watermelon.org.
Photos courtesy of the National Watermelon Promotion Board.