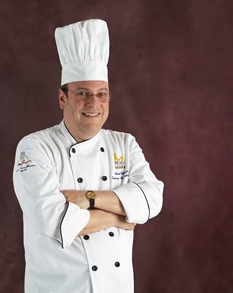 Delivering cooking demonstrations to the public and select groups not only benefits others by sharing your and your students' expertise and talent. More importantly, it also builds and promotes your program's unique brand. And the strongest advice from Chef Weiner? Keep it simple.
By Adam Weiner, CFSE
Last month I wrote about giving back to the community. One of the things I mentioned is giving cooking demonstrations. Besides being altruistic, another reason to have you or your students give demos is to promote your program.
When I went to obtain my California Teaching Credential, one of the first things I was taught by my instructors and mentors, Lee and Susan Clark, was that it was critically important to promote your own class. If you don't—they made emphatically clear—you will be unemployed very soon because of a lack of students. I took their words to heart. When I started teaching the program there were seven students and I was told the program was to be shut down in six months. I brought the enrollment up to 20 people, and 10 years later I am still teaching the same program. I continue to promote, and there is now a several-month waiting list.
So giving demos is a good idea for a variety of reasons. Now, you just have to learn, yourself, and teach your students how to do demos. Like everything else in cooking, the key to success rests with three issues: planning, preparation and practice.