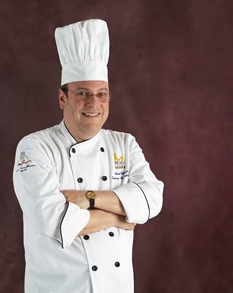 As the term comes to a close, Chef Weiner shares a commencement speech he delivered to graduates who were not culinary-arts students. In it, he dispensed with niceties to instead offer a generous helping of reality.
By Adam Weiner, CFSE
If you are a regular reader of "50-Minute Classroom," you know I believe our job as culinary teachers is not to merely teach cooking. Our job is to use cooking as a tool to help our students succeed in the world. In fact, at CAFÉ's 10th-annual Leadership Conference in Salt Lake City next month, I am hosting a roundtable discussion on the importance of teaching students the essential combination of life and job skills.
In January I was asked to be the lead speaker at a graduation ceremony for a halfway-house program in my county because of the success I've had with teaching and getting jobs for people. Although I have spoken at numerous events about food and teaching, I have never spoken at a graduation other than for culinary students. I spent some time talking with my wife, and I came up with what I wanted to say. What's interesting is that it wasn't a "rah-rah you did great" speech, but a speech on reality.