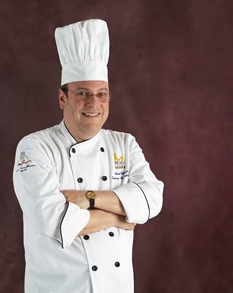 'Tis the season, says Chef Weiner, who among other things suggests a "Build a Gingerbread House" station to raise needed funds for programs.
By Adam Weiner, CFSE
My article on teaching Thanksgiving side dishes was so well received by "Gold Medal Classroom" readers that Mary Petersen, president of CAFÉ, suggested I consider writing how to make gingerbread houses.
I toyed with this sweet suggestion (pun intended) and decided to twist it a bit. Instead of writing about how to make gingerbread houses, I am going to write how you can have fun with them, as well as possibly make some money.
First, let's make gingerbread houses for fun.
1.Have your class make their own gingerbread houses. This is a multi-task activity that includes, among other things, baking and decorating. The easiest way to do this is to make the gingerbread pieces on one class day and assemble on the next.