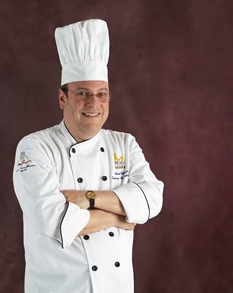 Why does measuring weight, volume and temperature require training? Because each measuring instrument is only as good as the person who uses it. To that end, Chef Weiner offers a primer on measuring to share with your students.
By Adam Weiner, CFSE
I have been asked to give a presentation at the June 2015 Leadership Conference in Niagara Falls on the topic of how to teach basic culinary skills in 50 minutes. Before students can braise, sauté, simmer, bake, roast, poach, etc., however, they need to know the basics of knives and they need to know how to measure.
CAFÉ's "Gold Medal Classroom" published my four-part series, "How to Buy Knives," in October 2010, November 2010, December 2010and January 2011. This article on measuring is written as an instruction manual for your students. Please feel free to print it out and hand it to them directly.
New cooks need to learn how to measure. Although there will be many times when you will use technique and feel in cooking, you have to understand the basics of measuring and following recipes, as well. The three most common types are measurement of liquids, measurement of solids and measurement of temperature.