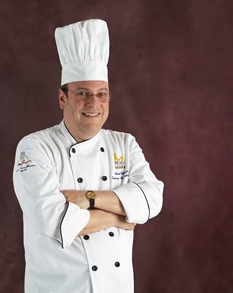 Does anything scare new cooks more than gravy? And what to do when faced with a sweet potato AND a yam? Chef Weiner explains how educators can assuage students' fears of preparing traditional Thanksgiving sides from scratch—and teach it all successfully in 50 minutes.
By Adam Weiner, CFSE
Hard to believe, the holidays are upon us. For many of your students, they learned from a young age the important lesson that love must go into the food. However, they probably watched their parents "freak out" about Thanksgiving dinner or, worse yet, watched their parents purchase canned and packaged food.
So it is your job how to teach them to make great-tasting, healthy, homemade side dishes. Here are five items that can all be easily made in one class day, or prepped on one day and finished the next.
1. Cranberry Sauce. There is absolutely nothing easier to make than cranberry sauce. Yet, almost everyone resorts to cans. If your student can boil water, he or she can make homemade cranberry sauce in under 15 minutes.
Rinse a 12-ounce package of cranberries. Add 1 cup water and ¾ cup to 1 cup sugar into a heavy pot. (Amount depends on how sweet you like the sauce.) Simmer for about 10 minutes. The longer you simmer, the thicker the sauce. If you want the sauce smooth, just push the mixture through a strainer while it is still hot. Want to kick it up a notch? Add in diced dried apricots, lemon zest or a pinch of cinnamon, or let your mind be creative.