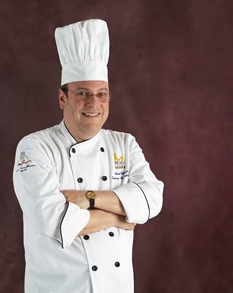 For newer culinary-arts teachers, ordering can seem a daunting task. But it's really quite simple, says Chef Weiner, who suggests three basic ways to order for day-to-day teaching (while taking into consideration two common snags). His chief advice? Under order.
By Adam Weiner, CFSE
This article is dedicated to the newer instructors. If you are experienced in ordering for teaching purposes, then feel free to skip this article and join me again next month.
If you are new to teaching, you have only been ordering for your class for a short time. By now you are probably banging your head into the wall, particularly if you have never ordered for a foodservice facility.
In the beginning, new chefs and instructors tend to over order. This is only slightly burdensome for non-perishables and freezer items (although sooner or later space becomes an issue). This can be a real money loser for perishable items that can't be frozen.
WORK VERY HARD to under order. Remember, your job is to teach the students how to cook—not to feed them. If they only get a half serving (or even a taste), so be it.