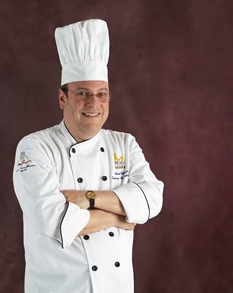 On a recent trip to Hawaii, Chef Weiner had an epiphany: Teaching our students how to cook isn't good enough. To better prepare them for the real world, we also need to introduce students to the different formats of serving. Here are 10 effective ideas that fit nicely within a shorter class timeframe.
By Adam Weiner, CFSE
One of the beauties of being active with CAFÉ is that you get to meet fellow culinary instructors, culinarians, students and chefs from around the country. I joke around that every time I return from the Leadership Conference I have to buy a larger business-card holder.
(Speaking of the Leadership Conference in June, I will be giving a presentation entitled "Teaching the Basic Cooking Principles in 50 Minutes." It is designed specifically for high-school teachers. I hope you can attend, because I would love to have participation from a broad range of instructors.)
There is another way that being active in CAFÉ expands your network: You use CAFÉ to find others in the field in places where you will be travelling. Several months ago I mentioned to Mary Petersen, the president of CAFÉ, that my wife and I were going to Kauai. She introduced us via e-mail to Martina Hilldorfer, culinary-program coordinator and chef at the Culinary Institute of the Pacific at the Kauai Community College.