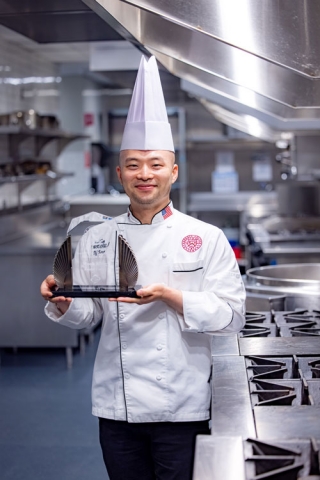 Wook Kang Earned the Innovation Award for Take-home Kits Allowing Students to Cook and Learn During Pandemic-related Closure
10 August 2021
Idaho Potato Commission and CAFÉ honor Kendall College culinary educator for at-home inspiration kits.
By Lisa Parrish, GMC Editor
Borrowing from COVID-19 survival tactics popular with grocery and food delivery services, food prep kits found their way into culinary education as chefs-in-training continued their education cooking at home. This creative meal-prep exercise earned Kendall College at National Luis University program chair and culinary arts instructor Wook Kang the Innovation Award from the Idaho Potato Commission and Center for the Advancement of Foodservice Education (CAFÉ).
The national award recognizes educators at both the secondary and postsecondary levels who have shown to be innovative in their approaches to effective culinary arts education.
"We wanted to provide students the opportunity to learn a specific theme or skill while thinking 'outside-the-box' and creatively conceptualizing new ideas," Kang said. Take-home kits were designed with inspiration and technical skills in mind and were specific to each course.
The kits contained the lesson plans, required food and instruction sheets. Each card begins with a checklist of items students were required to accomplish before the lesson such as washing hands, reviewing instructions and getting their camera and kitchen equipment ready. The second section walked students through the lesson from reviewing the ingredients to taking pictures of the final product.
Sixty percent of culinary classes utilized two food prep kits, according to Kang. Examples include a jam kit, roasting kit, knife skills kit, sugar identification, salt identification, cheese tasting kit and egg cookery kit.
Kang said students reacted very positively to the kits. "With the various themes and products they received, they really enjoyed the experimentation factor and the opportunity to learn while in the comfort of their own homes. Students made roasted chicken with pan gravy, herb shortbreads with chocolate, and potato dauphinoise," he said.
The kits were an important aspect of connecting with culinary students when face-to-face instruction was limited. "We wanted our students to enjoy the process of learning, while still engaging with them outside of the classroom," Kang said. "The food prep kits allowed students to have fun at home while learning the course outcomes and objectives."