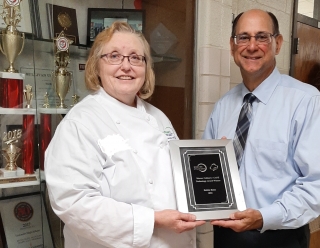 Debbie Bates Honored for Guiding Students Through the Complex World of Technology, Culinary Arts Amid COVID-19 Pandemic
10 August 2021
Lancaster High School teacher honored with inaugural Technology Award sponsored by CAFÉ and Mercer Culinary.
By Lisa Parrish, GMC Editor
Debbie Bates, culinary instructor at Lancaster High School's Stanbery Career Center, received the first-ever 2021 Technology Award from Mercer Culinary and the Center for the Advancement of Foodservice Education (CAFÉ).
The new national award recognizes a culinary/hospitality program or individuals that successfully introduced and guided students in the complex world of technology and culinary arts.
Technology and culinary arts are close partners, perhaps more than meets the eye. Most culinary students will become well-versed in programs such as point of sale systems, restaurant concept creation software and billing systems before they graduate. However, COVID-19 shutdowns forced students from the Stanbery Career Center Culinary Program to learn to take technology to a higher level.
In March 2020 in-person culinary competitions, such as the Ohio ProStart Invitational, changed to virtual competitions where students were required to not only cook their menus but also document the process with video and additional tracking information such as detailed timelines. These extra steps required video expertise, Google sheet knowledge and more. Additionally, the students were given a short time to record, edit and present the new information.
"I was very proud that they learned to meet and work together on Zoom finding programs that allowed them to change and create content in real time," Bates said. The students created templates, loaded the content and won the 2020 Ohio ProStart Virtual Culinary Competition. Bates explained that the students earned thousands of dollars in scholarships which allowed them to attend culinary school.
The digital platforms from the 2019-2020 school year (when schools were closed in March due to COVID-19) set the stage for more advanced technology work in 2020-2021. In collaboration with the school's Broadcasting and Multimedia students, culinary students learned how to write a script, create a production state, edit, shoot, record close-up shots, create voiceovers to narrate their production video, use cue cards and read a teleprompter.
"It has been a wonderful learning experience and they obviously gained real-life skills. Their accomplishments are truly worthy of this award," Bates said.