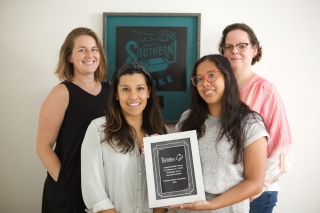 Southern Smoke Foundation Receives Honorable Mention for Inaugural Community Outreach Award
10 August 2021
The crisis relief organization received over 31,000 applications in 2020 and granted approximately $6 million to food and beverage industry workers over 13 months.
By Lisa Parrish, GMC Editor
Houston-based Southern Smoke Foundation received an honorable mention for the first-ever 2021 Community Outreach Award from Auguste Escoffier School of Culinary Arts and the Center for the Advancement of Foodservice Education (CAFÉ).
The new national award recognizes a culinary/hospitality program or individuals making a positive impact in their community via outreach programs such as food banks, recycling efforts, skills development for the homeless and other services.
The Southern Smoke Foundation is a crisis relief organization for people in the food and beverage industry. The group provides funds directly to people in need that are battling health crises, winter storm damage, natural disasters, mental health needs and those affected by the COVID-19 pandemic. Although it began in Houston, the organization funds people in need across the country.
Director of Case Management and Community Partnerships Catarina Bill said that the foundation was launched to help food and beverage colleagues who suddenly found themselves in crisis. "When we founded our organization, Hurricane Harvey had just ravaged the Greater Houston region and we immediately knew there was a dearth in the marketplace for this kind of relief effort," she said.
In 2020, the organization received over 31,000 applications for relief. The application numbers have continued to grow. From March 2020 to April 2021, they granted approximately $6 million in relief to about 2,600 people. The foundation grants funds almost exclusively to individuals and the average award amount is $2,000, although that number can vary widely because every grant is based on actual, provable need.
In February 2021 when Texas froze the Foundation began the Texas Winter Relief Fund. It was established to support people in the food and beverage industry who were in crisis due to catastrophic weather events in Texas.
Last year the Southern Smoke Foundation began offering free mental health services through a partnership with Mental Health America of Greater Houston and the University of Houston. This program provides free mental healthcare to employees and their children in the food and beverage industry. The service is available to anyone who lives in Texas as the program features virtual appointments.