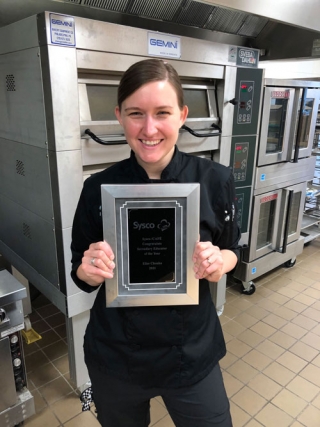 Mary Elise Chonko Honored with Award for Exemplifying 21st- century Educational Teaching Qualities
10 August 2021
Chesterfield Career and Technical Center instructor earns 2021 Sysco Corporation and CAFÉ Secondary Instructor of the Year Award.
By Lisa Parrish, GMC Editor
The Sysco Corporation along with the Center for the Advancement of Foodservice Education (CAFÉ) honored Mary Elise Chonko, baking and pastry arts instructor at the Chesterfield Career and Technical Center, as the national 2021 Secondary Educator of the Year award recipient.
The four-year instructor at the Hull Street school has worked with numerous people within the school district and surrounding community at various foodservice events. According to Associate Principal Mark Fowler, the culinary program is referred to as "Hull's Kitchen," a take on Gordon Ramsey's popular show "Hell's Kitchen."
Chonko's commitment to educating the next generation of baking and pastry arts professionals is exemplified through her dedication to providing students with real-world experience and top academic instruction.
One example of her dedication to students' learning is through her classroom lessons that study the intersection of food and the current cultural climate. For example, she teaches her students about making cornbread and how the preference for a sweet or savory application closely mirrors racial lines. Her students also have learned about the local cultural divide through collaborations with the organization Bakers Against Racism RVA.
Providing opportunities for skill development outside the classroom through community engagement is a large part of Chonko's teaching philosophy. The culinary program sponsors a Breakfast with Santa open to the public complete with a gourmet pancake station. The most recent event saw more than 300 community members visit the school. Chonko's students also provide cookies to Icing Smiles, a nonprofit organization dedicated to giving custom cakes and cookies to families impacted by a child's critical illness.
Fowler said, "I have been impressed with her innovation, professionalism and student-centered approach to instruction. She leads by example through her creative instructional practices that maximize the use of technology and enhance student engagement."
Chonko has reached out to other instructors within Chesterfield County schools to collaborate and strengthen students' knowledge. For instance, her culinary students worked with Crosby High School's Engineering and Design students to create 3D cookie cutters to be used on future Icing Smiles orders. She also collaborated with the Environmental Biotechnology class to build a composting program that will eventually provide enough soil to begin a culinary garden.
Students' culinary skills are developed through local, regional and national baking competitions, community and school catering events as well as guest speakers and interviews with top local and national chefs. Her program works closely with the University of Richmond and the Country Club of Virginia to create internships and work experience. "The Country Club loves hiring my students. Every year they reach out trying to fill both summer positions for current students as well as full-time positions for graduating students," she said.
The culinary program's positive reputation is well-known throughout the county's middle school. "I love to reach out to students in middle school to get them excited about a possible career in the food industry," she explained. One way she does this is through a middle school baking exploratory summer program where students learn about a foodservice classroom and opportunities for employment. "This experience has helped boost our program enrollment and helped to get more students in food positions in our community," she said.
Chonko's commitment to education is summed up by colleague and fellow baking and pastry arts instructor Sarah Jurewicz who said that Chonko "ran into teaching with enthusiasm and has since grown and developed a baking program that instills professionalism and dignity into her students."