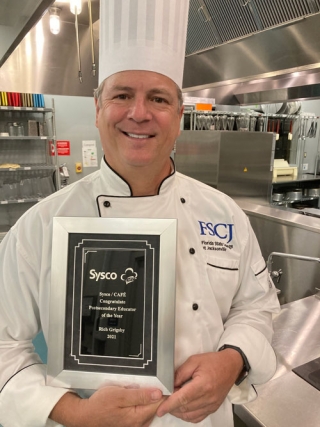 Rich Grigsby Received the 2021 Postsecondary Educator of the Year Award for Educational Leadership and Excellent Teaching Practices
10 August 2021
Florida State College at Jacksonville professor earns 2021 Sysco Corporation Postsecondary Instructor of the Year award.
By Lisa Parrish, GMC Editor
The Sysco Corporation along with the Center for the Advancement of Foodservice Education (CAFÉ) selected Rich Grigsby, Florida State College at Jacksonville professor of culinary management, to receive the 2021 Postsecondary Educator of the Year award.
Grigsby's award recognizes his educational leadership in and out of the classroom. Working with students of varying culinary skills at the beginning of a culinary program is extremely challenging. "Some students enter our program with restaurant experience while others have difficulty boiling water," he said. He interviews each student in his class to determine their strengths, weaknesses and long-term plans to create teams to balance students' experiences and expectations. "The student that is a vegan and the student that wants to be a butcher are definitely going to be in the same group," he explained.
Another teaching tactic students enjoy and has proven extremely successful is creating culinary parodies to children's rhymes. "The one I use most often helps students remember the primal cuts of beef and is sung to the children's song "Head, Shoulders, Knees and Toes." I use, "Chuck, rib, loin and round, loin and round" as a substitution for the lyrics. The students leave my class singing," he said.
Former culinary student Adriana Farrell said in an award recommendation letter, "Chef Grigsby's positive and unique work ethic is unmatched. He is always using different ways to make sure the students are having a good time but also staying engaged and learning. He makes sure every student knows and understands what is being taught, and even if you're not directly in his class, he's still your teacher."
The professor's leadership spirit extends beyond the classroom. He was instrumental in helping the culinary management program achieve an exemplary rating during last fall's accreditation review by the American Culinary Federation Education Foundation. Florida State College at Jacksonville is one of only two colleges in Florida to receive this top culinary curriculum rating.
Dean of Professional Studies and Public Safety Richard Greene praised Grigsby's commitment to his students and their workforce futures. "He is in constant contact with industry employers and internship host sites. Currently, he is working with TPC Sawgrass getting student workers and interns for golf's The Players Championship in March."
From creating a garden by collaborating with other college departments that helps demonstrate sustainability principles to taking the lead on assisting colleagues migrate their classes to an online environment because of COVID-19 shutdown, Grigsby's commitment to culinary education was rewarded with earning the 2021 Postsecondary Educator of the Year award.