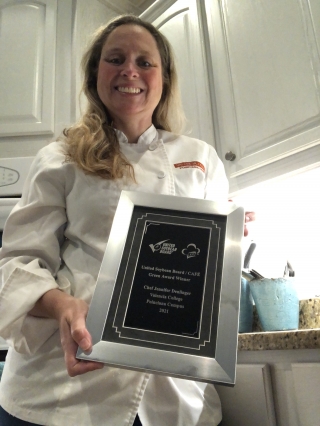 Valencia College's Dr. Jennifer Denlinger Honored with Two National Culinary Awards
10 August 2021
The culinary management program department chair received the Green Award and was named Postsecondary Educator of the Year runner-up.
By Lisa Parrish, GMC Editor
Dr. Jennifer Denlinger, CCC, CHEP, culinary management program department chair at Valencia College's Poinciana campus, earned the Green Award for an educational emphasis on sustainability and was runner up for the Postsecondary Educator of the Year honoring her professional commitment to education and the foodservice industry.
As a lifelong culinary student and coach, Dr. Denlinger has fused her culinary know-how and knowledge of teaching methodologies to create an educational environment where students with different learning styles find success. "I believe not every student learns the same. It is the educator's job to help students learn the best way to learn. I find it satisfying finding teaching methods students both enjoy and effectively learn from," she said.
It is this commitment to effective teaching and learning that garnered her the runner-up honor for the Education of the Year Award, sponsored by Sysco Corporation and CAFÉ.
Dr. Denlinger also incorporates sustainability concepts throughout Valencia College's culinary management program's courses. The lessons include reducing food waste by composting and repurposing scraps, canning, maintaining culinary gardens, and utilizing wooden tasting utensils. During the pandemic, the program continued to be environmentally conscious as their classroom kitchens were closed. The program became virtually paper-free by removing printed handouts and worksheets and migrating to a computer system where work is digitally turned in and graded. One class removed more than 50 previously printed workbook pages.
Her dedication to incorporating conservation concepts throughout the culinary program was rewarded by earning the Green Award, sponsored by The United Soybean Board and CAFÉ.
The two national awards honor Dr. Denlinger's commitment to top-notch instruction and sustainability principles. She summed up her teaching philosophy when she said, "Chef instructors must be well-rounded with their knowledge, skills and attitudes in the world of food, methodologies and theories. A good chef instructor is someone who can then take their knowledge and successfully translate it to a manner that can be portrayed and delivered effectively to students."