Lesson Plan: Barbecuing American Lamb
28 July 2011
Courtesy of the American Lamb Board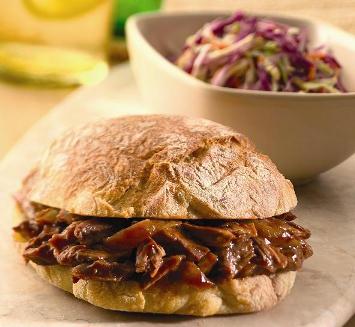 Barbecuing lamb brings together a richly flavored, homegrown product and one of America's specialty cooking methods. It also helps teach our students about cuts of lamb that they may not often cook.
The term barbecue is somewhat confusing. To many in the United States it refers to outdoor cooking in general. To others, it conjures up images of putting burgers or steaks on the grill. For culinarians and many of those who live in the south, barbecuing refers to a very specific cooking method where low, indirect heat is used to slow cook full-flavored and tougher cuts of meat. Often the heat comes from burning wood, so a rich smoky flavor is infused into the meat. Various cuts of lamb are ideal for this cooking method and yield up some really tasty treats.
This lesson plan addresses ideal lamb cuts for barbecuing, temperature management, on-trend sauces and dry rubs, and includes a recipe for BBQ Lamb Shoulder.