Lesson Plan: All Things Potatoes
17 June 2014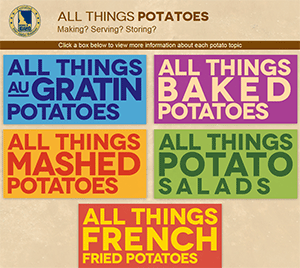 Potato prep problems? Your students are one click away from the solution. Questions about au gratin, baked, mashed, potato salad and french fries are answered online.
Courtesy of the Idaho Potato Commission
Here's a scenario to offer students: It's the middle of the dinner rush, and the french fries are coming out of the fryer darker than usual. What's an operator to do when a potato-preparation crisis arises?
Have them head to the Idaho Potato Commission (IPC) All Things Potatoes page. As the potato industry's best resource for product information (varieties, handling, storage) and usage (preparation tips and recipes), the IPC collected targeted solutions and recommended recipes for five potato menu standards: All Things Au Gratin Potatoes, All Things Baked Potatoes, All Things Mashed Potatoes, All Things Potato Salads and All Things French Fried Potatoes.
Under each heading, students can browse Dr. Potato's posts on best practices, optimal outcomes and profitability tips. Scrolling down, the IPC provides technique videos and a wide-ranging selection of recipes in each category. Future plans to expand available topics include hash browns and potato skins.
While students visit https://idahopotato.com/foodservice, have them check out the IPC's comprehensive recipe database, refer to a helpful size guide and Idaho® potato preparation tips, find answers and solutions to operational and culinary FAQs, or ask Dr. Potato a question.