Lesson Plan: Maximize Meals with Mushrooms
28 July 2014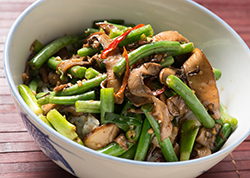 The Culinary Institute of America introduces an online learning experience focusing on the "blendability" of mushrooms at ciaprochef.com.
The Culinary Institute of America introduces a free online learning course, "Maximize Meals with Mushrooms!" available at http://www.ciaprochef.com/mushrooms/index.html?source=HomeBanner&segment=Mushrooms. Inspired by the meaty nature of mushrooms, the course highlights the creative potential of mushrooms blended with meat—an idea that boosts flavor, enhances nutrition and saves money.

"Maximize Meals with Mushrooms!"explores this concept of "blendability" in recipes drawn from global kitchens, from Mexico to Italy to China. The e-learning course includes chef-tested recipes, all downloadable and demonstrated in streaming video by CIA chef-instructor Bill Briwa, CEC.
To showcase mushrooms' versatility, "Maximize Meals with Mushrooms!" demonstrates uses for a range of types, from the delicate enoki to the hefty portobello. Through online videos, purchasing and storage guidelines, and information on mushrooms' nutritional value, the online learning module empowers culinary-arts students to cook with mushroom varieties with which they might not be familiar.

Among the original recipes demonstrated in this online cooking class are mushroom chili with chipotle, Moroccan mushroom meatballs with harissa aïoli, mushroom tacos, and Szechuan mushroom stir fry (pictured).
"Maximize Meals with Mushrooms!"was produced by the CIA's Digital Media team, which has won two James Beard Foundation Awards for Best Webcast.
View the module at www.ciaprochef.com/mushrooms.