Lesson Plan: Knife and Steel Construction
01 May 2014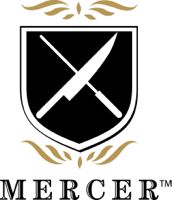 Courtesy of Mercer Cutlery
This in-depth lesson plan on knife construction, composition, maintenance/care and proper sharpening of professional knives was presented at the American Culinary Federation's 2014 Central Regional Conference in St. Louis in March by Chef Chris Parker, business-development coordinator for Mercer Cutlery. Attendees also enjoyed a technical dive into the world of German knife manufacturing.
Parker has been the corporate chef of Mercer Cutlery for three years. A graduate of Midwest Culinary Institute in Cincinnati, his background includes cooking in restaurants from Ohio to New York.
The level of this lesson plan is intermediate, making it appropriate for culinary-arts students' professional growth. Download the .pdf file from the hyperlink below.