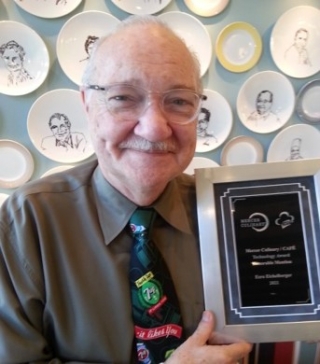 CIA Professor Ezra Eichelberger Honored with Inaugural Technology Award
10 August 2021
Ezra Eichelberger earns runner-up honors for digital technologies added to his hands-on culinary service classes.
By Lisa Parrish, GMC Editor
Ezra Eichelberger, professor at the Culinary Institute of America, received the first-ever 2021 Technology Runner Up Award from Mercer Culinary and the Center for the Advancement of Foodservice Education (CAFÉ).
The new national award recognizes a culinary/hospitality program or individual that successfully introduced and guided students in the complex world of technology and culinary arts.
Echelberger explained the experience using his Table and Wine Service Class as an example. Previously, he would use in-class time to demonstrate the skills students needed to master. However, because of the pandemic change, he pre-recorded demonstrations such as presenting, opening and serving a bottle of wine, plate handling and serving hot beverages. In his videos, he purposefully dressed in casual clothes and used mock props, such as rolled-up socks in place of bread, to focus students' attention on the service and not the items. The change resulted in more discussion and interaction during class time.
Students' use of video also increased as they were required to record themselves performing the skills for assessment. "The students' uploaded videos allowed me to focus on the specific skill with the ability to replay and enlarge, if necessary. In the former live practical exam, I graded five students at a time," he said.
Eichelberger also explained that adding other digital information, such as online assessments, offered an opportunity to provide important feedback and not just a grade.
"These skill videos have been incorporated in the other service courses. This method of safe learning will continue beyond the health crisis," he said.